This is the best recipe for the most amazing monkey bread!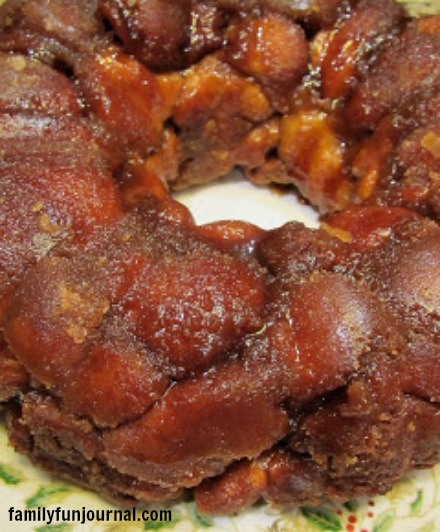 Monkey bread is one of my family's favorite breakfast meals. We love to eat this delicious treat for breakfast. We love it so much that we also eat it during special occasions like Christmas morning.
Monkey bread is really fun to put together. Your kids will love to help prepare monkey bread. My daughter loves to help make it. I let her shake the biscuit pieces in the cinnamon sugar mixture and put them in the pan. She thinks it is so much fun.
If youve eaten monkey bread, you know it is biscuit pieces coated in a mixture of cinnamon and sugar. My recipe is a little different. I also add brown sugar to the mixture. The result is a texture that is a little bit crunchy with a ton of carmelized cinnamon and sugar.
 Monkey Bread Recipe
Monkey Bread
Author:
Family Fun Journal
Ingredients
2 cans of Grands flaky layer buttermilk biscuits
⅛ cup of cinnamon
1 cup of sugar
½ cup butter
1 cup brown sugar
Instructions
Preheat oven to 350.
Cut each biscuit piece into sixths.
Combine the cinnamon and sugar in a plastic bag.
Place each cut biscuit piece into the bag and shake to coat.
Place the coated pieces into a bundt pan.
Melt the butter and add the brown sugar.
Stir to combine.
Pour the butter/brown sugar mixture over the pieces in the bundt pan.
Bake for 35-40 minutes.
Once you pull the monkey bread out of the oven, you have to turn the pan upside down on top of a large plate. That way, the caramelized brown sugar bottom becomes the top of the monkey bread. The easiest way to turn it upside down is to put the plate on top of the pan and flip the whole thing over.
Your family will absolutely love monkey bread for breakfast. It is such a delicious treat, you probably wont have any leftovers.