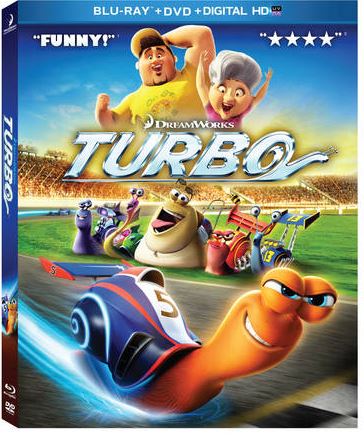 I'm so excited to be participating in this awesome giveaway hosted by Money Saving Parent. Turbo is a really cute movie from the creators of Kung Fu Panda and Madagascar. Here is your chance to enter to win your very own copy! But first, here is a rundown of the movie and its characters.
The movie is about Turbo, a snail who has a big dream. During the film, Turbo and his friends learn that if you work together, you can achieve your goals.
Here are the fun characters:

Turbo: The main character wants to be the fastest racer in the world and compete in the Indy 500. His fast dreams make him different from the other slow snails. When an accident gives him the ability to achieve top speeds, he heads out on an amazing journey.
Chet: Chet is Turbo's brother. The two couldn't be more different. He is always very practical and too cautious. His main goal is to keep Turbo safe. By doing so, he becomes Turbo's main challenge to achieve his goal.
Angelo: Angelo is older and more level-headed than Turbo. Like Chet, Angelo is also realistic about his station in life. He has to put up with Turbo, whose goals seem way out of reach.
Tito: Tito is also a big dreamer. He is always coming up with ways to emphasize Turbo and Angelo's struggling Dos Bros Tacos business. When Turbo obtains the ability to move at a super fast pace, Tito goes with him to chase the dream.
Guy Gagne: Guy is a French-Canadian race car driver who has won the Indy 500 five times. He appears to be charming. However, he only cares about winning.
Whiplash: Before Turbo, Whiplash was the leader and champion of the Racing Snails. Once you earn his respect, you will be treated like family.
Smoove Move: This cool character has unique insight into the twists and turns of Turbo's adventures.
Skidmark: This trash talking character is Whiplash's number two. For Skidmark, every stunt should end with a major wipeout.
Burn: The only female racing snail. She holds her own with her sassy attitude.
White Shadow: A funny character who has the goal of being as fast as a shadow. He ignores the fact that shadows arent fast.
While this movie hasnt been released yet (it comes out on Nov. 12), you get the opportunity to win it! Enjoy the video and enter the Rafflecopter below.