I am so excited to provide a review of the new DVD, Transformers: Rescue Bots-Heroes On The Scene.
I received a copy of Transformers Rescue Bots: Heroes On The Scene to facilitate this review. All writing and opinions are my own.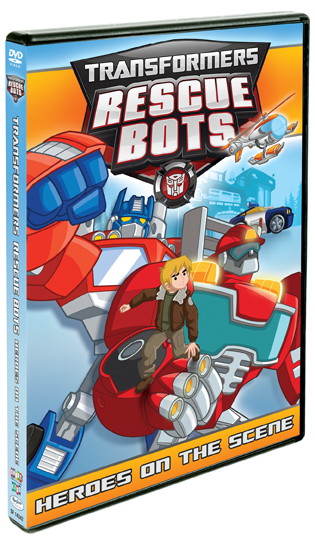 On March 18, Hasbro in collaboration with Shout! Factory Kids, is releasing Transformers: Rescue Bots-Heroes on the Scene.
This action packed DVD is full of fun adventures featuring Chase, Heatwave, Blades and Boulder.
My daughter loved the adventurous episodes on this DVD. She was on the edge of her seat watching the Transformers Rescue Bots take on their heroic roles.
She had so much fun cheering on the Rescue Bots as they saved the day. She loved to watch them transform into their respective rescue vehicles.
As a Mom, I love that the Rescue Bots always try to help others. They never give up and always work hard to overcome adversity. I also love that they work together to reach their goals. 
In the collection featured on this disc, the Rescue Bots go undercover to protect the quiet town of Griffin Rock from a green ooze, help rescue Chief Burns from a flooding mine, recover stolen treasure and help Griffin Rock recover from an earthquake.
Along with their friends, Rescue Bots do what they do best: help keep people safe. They also learn what it really means to be a hero.
Transformers: Rescue Bots-Heroes On The Scene Episode List:
The Lost Bell
You've Been Squilshed
Little White Lies
Shake Up
Rescue Boy
Transformers Rescue Bots is executive produced by Jeff Kline (Transformers Prime), and features the vocal talents of LeVar Burton (Star Trek: The Next Generation), Lacey Chabert (Party of Five), Steve Blum (Transfomers Prime), Maurice LaMarche (Emmy® Award winner for Futurama) and the legendary Peter Cullen who voices Optimus Prime when he makes cameo appearances in the series.
This series currently airs in the U.S. on The Hub TV Network and on Treehouse in Canada.