I received a copy of Thunder and the House of Magic to facilitate this review. All thoughts and opinions are my own.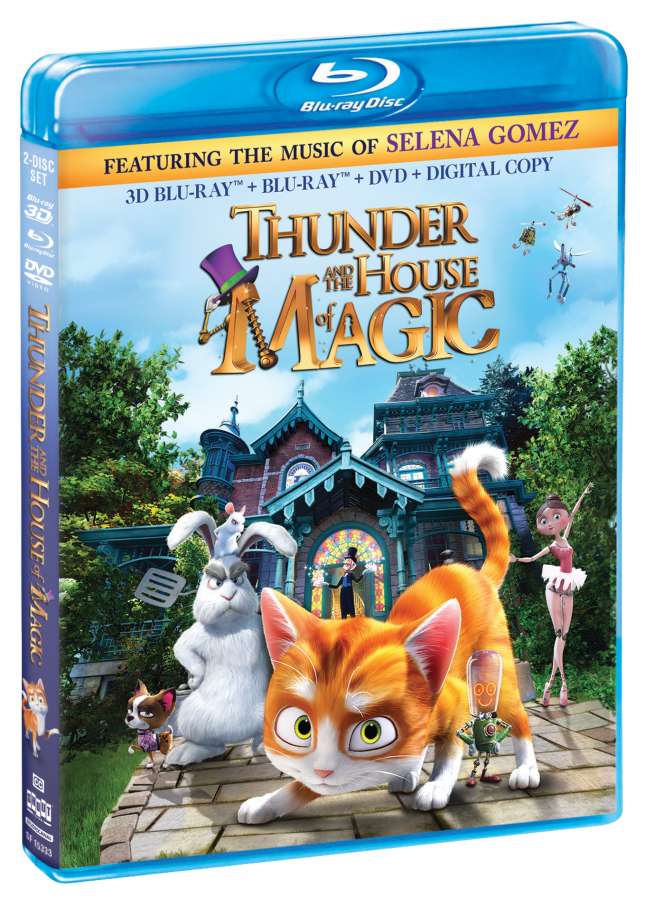 Thunder and the House of Magic is an animated family adventure. This internationally acclaimed film delivers a great movie viewing experience for the entire family.
The film centers around the main character, Thunder, an abandoned cat who cannot find a new home. When he stumbles upon an old magical mansion, he meets a group of unique characters.
The mansion is owned by a magician. It is full of magical animals, cool automatons and fun gizmos. At first, the residents of the home arent too happy about their new houseguest. However, the magician is extremely welcoming to the lonely cat.
The magician ends up in the hospital and his nephew schemes to try to put the mansion up for sale without his knowledge. To save the house and help the magician, all of the animals, automatons and gizmos come together as a team.
We had a family movie night and watched this film. We all enjoyed the graphics and fun characters. The story is cute and the characters are really memorable.
My daughter loved the automatons and gizmos. Her favorite character was the adorable lightbulb. The mansion itself is really cool and full of all sorts of magical displays.
This is a great movie that adults and kids will enjoy watching together.
Shout Factory! is releasing Thunder and the House of Magic on Sept. 30. The film is available on DVD and on two-disc Blu-ray™ 3D Combo Pack (Blu-ray 3D and 2D, DVD and digital). These discs will be sold exclusively at Walmart.
In addition to the film, the discs include the following special bonus features:
Origins
Character Animation
Teaser
Trailer
Thunder and the House of Magic is written by James Flynn, Domonic Paris and Ben Stassen. It is based upon an original story idea from Ben Stassen. The film is produced by Caroline Van Iseghem and Ben Stassen, executive produced by Olivier Courson and Eric Dillens, and features original music by Ramin Djawadi. The 85-minute film is produced by nWave Pictures in association with Studiocanal and Anton Capital Entertainment.
Visit www.thunderandthehouseofmagic.com for more information about the movie.
Here is a trailer of the film: