I LOVE strawberries. They are so delicious. I can totally eat them plain. However, I like to use them in recipes to create amazing dishes. Here is a drool worthy round up of incredible recipes featuring the incredible red fruit.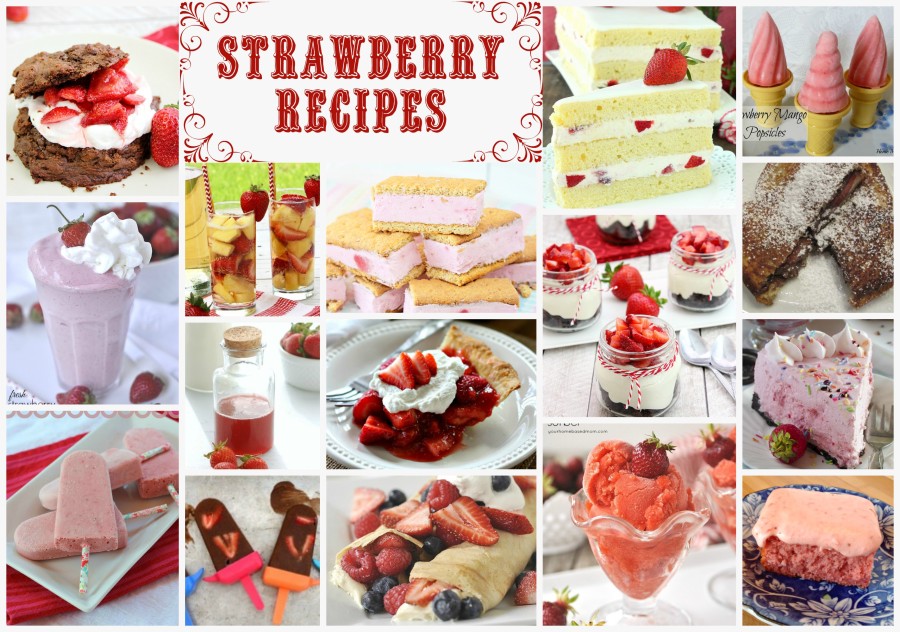 Love Bakes Good Cakes made an amazing chocolate strawberry shortcake. I love the idea of using chocolate in this classic dessert.
Roxana's Home Baking put together this unbelievable strawberry shortcake cake. I wish I had a big piece of this right now.
Home Maid Simple created these refreshing strawberry mango popsicles. I absolutely, positively love the popsicle sticks that look like ice cream cones!
Your Home Based Mom made an incredible looking fresh strawberry milkshake. I love that she used fresh fruit in this classic milkshake.
Live, Laugh, Rowe featured a drink that I know I'm going to love! This strawberry pineapple fizz looks like the perfect drink for a hot summer day.
These strawberry banana frozen yogurt bars from Live, Laugh, Rowe are packed with fresh fruit and yogurt. They look amazing.
The dairy free strawberry brownie trifle from Love Bakes Good Cakes looks so pretty. This would be a great dessert to take to an event.
My grilled strawberry Nutella sandwich is really good. It is a fun breakfast option featuring melted Nutella and fresh fruit.
I can think of a ton of things I would put this strawberry syrup on from Wine and Glue. To see how she used it, check out her post.
Belle of the Kitchen made this stunning fresh strawberry pie. I cant wait to try this recipe.
OMG Chocolate Desserts created this no bake strawberry cheesecake. I love no bake desserts!
Cupcakes and Kale Chips made amazing looking strawberry cheesecake frozen yogurt popsicles! I bet these are really delicious!
I love the chocolate covered strawberry pudding pops by White Lights On Wednesday. I love pudding pops and think the addition of fruit would take them to the next level.
Your Home Based Mom made triple berry cream cheese crepes. I think these would make an amazing breakfast!
The next sorbet recipe is also by Your Home Based Mom. I cannot wait to try this recipe during the summer!
Tumbleweed Contessa wrote about this classic icebox cake that is full of our featured fruit. This looks like a great summertime treat.
If I've featured your recipe from the Life of the Party Link Up, visit this featured page to grab your button!