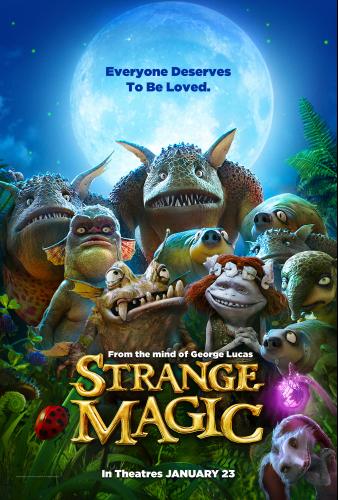 Strange Magic is a new animated film from Lucasfilm Ltd.  It is a zany fairy tale musical inspired by A Midsummer Night's Dream. Using popular songs from the last six decades, a tale unfolds featuring a colorful cast of goblins, elves, fairies and imps.
The story follows their hilarious misadventures sparked by the battle over a powerful potion.
Lucasfilm Animation Singapore and Industrial Light & Magic bring this imaginative tale to life. The forest is turned upside down in this world-class animation featuring visual effects.
This film is directed by Gary Rydstrom ("Toy Story Toons: Hawaiian Vacation," "Lifted") and created from a story by George Lucas.
Strange Magic will be released by Touchstone Pictures on Jan. 23, 2015.
Here is a clip from the film:

Strange Magic Recipes and Activity Sheets
To commemorate the Jan. 23 opening of Strange Magic, here are numerous recipes and family fun activity sheets. Here is everything you need to have your own Strange Magic themed party! The printables include recipes, invitations, activities and even decorations!