In case you don't know it, May the Fourth is coming up. What is so special about May 4th? It is Star Wars Day. To find out more about the history behind this special day, visit the Star Wars Web site.
I'm sure you have a Star Wars fan in your family. I have two fans. My husband and daughter. I'm sure they will celebrate Star Wars Day by watching one or more of the popular films.
They are currently making their way through the Star Wars Lego kits. I don't know which one of them is enjoying it more….
In honor of Star Wars Day, I've created a printable to go with a cute colored pencil lightsaber. I made these for my daughter to give away to all of her little friends.
This is an incredibly easy project that costs very little money.

Star Wars Printable Lightsaber Project
Supplies:
Duct tape
Colored pencils
Ribbon
Hole punch
Scissors
Instructions:
Step One
To create this adorable giveaway item, print out the below tag.You can access the PDF file by clicking on the image below. The PDF will allow you to print eight tags per page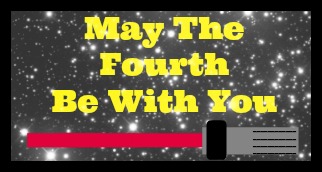 Step Two
Cut out each tag.
Step Three
Use a hole punch to cut a hole in the corner of each tag.
Step Four
Wrap a strip of silver duct tape around the bottom of each pencil.
Step Five
Attach a tag to each pencil with ribbon.
You can give away one pencil to each child or several pencils. If you choose to give away several, tie the ribbon around the entire bunch and secure with one tag.
Your child and his/her friends will love this little gift. My daughter loves to color with pencils. She thinks the lightsaber pencils are too cool. She cannot wait to give them to her school friends.