Your kids will love this creating this simple and fun St Patrick's Day craft project.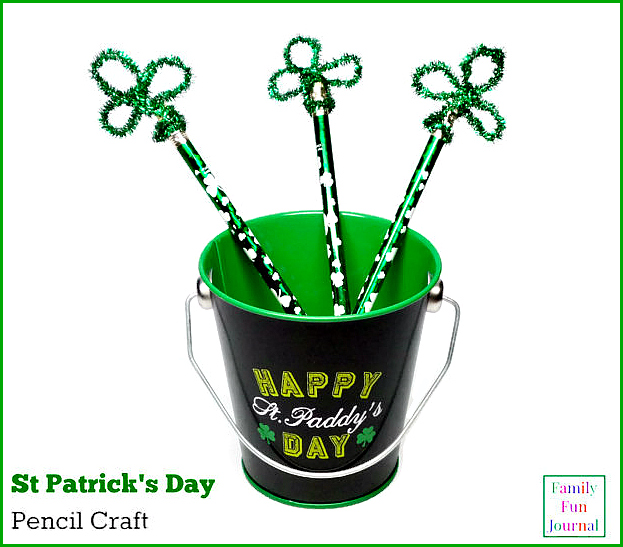 Now is the perfect time to do a fun St Patrick's Day craft. With St Patrick's Day right around the corner, this unique craft is a perfect last minute themed activity.
This project is easy, inexpensive and kid-friendly. Not only does this allow you to spend time crafting with your kids, you will create a fun gift that they can pass out on Tuesday.
On St Patrick's Day, your kids can hand out these shamrock topped pencils to their friends and teachers. They will have so much fun with this craft project.
This St Patrick's Day craft is so simple and so adorable. To complete this project, you only need St Patrick's Day pencils and green pipe cleaners. I love when projects are really easy to do and still yield great results.
I chose to use a shiny green pipe cleaners. However, you can use regular green pipe cleaners or any other color of your preference.
In addition, you could easily use green pencils if you cant find any in a St Patrick's Day design.
 St Patrick's Day Craft Tutorial
Supplies:
Green pipe cleaners
Green or St. Patrick's Day Pencils
Instructions:
Create a shamrock shape out of each pipe cleaner.
Wrap a pipe cleaner shamrock around each pencil.
That's it! It couldn't be any easier. My daughter had a blast doing this St Patrick's Day craft project. We created a bunch of pencils for her to hand out on St Patrick's Day. She cannot wait to share these pencils with her friends and teachers.
I love that this little giveaway item is also useful. I cant think of any kid that doesn't like/need a pencil.
I hope you have fun with this St Patrick's Day craft.