#sharktankswag #CNBCPrimeTV
My husband and I love the show Shark Tank. It is so entertaining to watch people make deals with the sharks. I really enjoy watching entrepreneurs pitch their products. Some of the pitches are amazing, while some of them are just plain whacky. You never know what you are going to see on any given episode.
It is really amazing to watch the Shark Tank Updates. I love that small time entrepreneurs are now making millions of dollars because of their partnerships with the sharks.
Did you know that CNBC airs back to back episodes of Shark Thank every Tuesday night starting at 7 p.m. central? Now that it's summer, I'm so glad I can still watch one of my favorite shows.
I was super excited to get a box of Shark Tank swag. The box itself was pretty amazing. My daughter loved the shark teeth edge of the box cover. Here is what was in my box: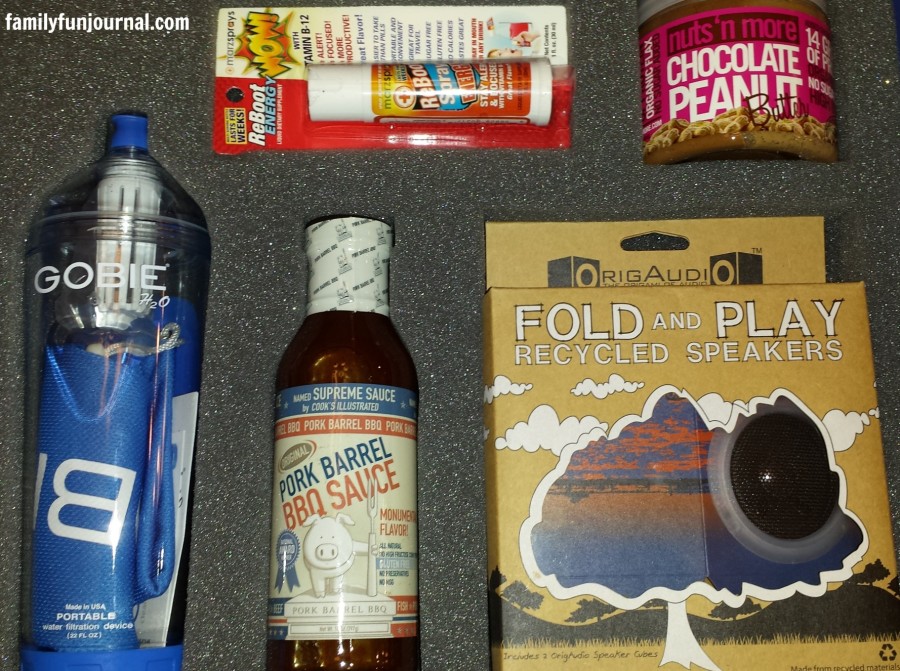 Marzsprays ReBoot Energy Spray-This is an energy blend that you spray in your mouth.
Nuts 'N More  Chocolate Peanut Butter-Protein packed peanut butter.
Gobie Filtered Water Bottle-A water bottle that allows you to have filtered water anywhere.
Pork Barrel BBQ Sauce-This barbecue sauce is from the popular Pork Barrel restaurant.
OrigAudioFold and Play Speakers-These unique speakers are made out of recycled material. They store flat and fold into a pop up square speaker.
These products are all from companies that made deals with the sharks. I remember watching the episodes involving these products. I am so thrilled I get to try these innovative products at home.
Shark Tank Giveaway
I have a really exciting announcement! One Family Fun Journal reader will win an awesome box of Shark Tank swag! To enter, see the Rafflecopter below.