Since St Patricks Day is just around the corner, here is a fun and kid-friendly treat. This recipe is very easy and your kids will love making a lot of these cute, edible shamrocks.
These shamrocks are made out of Ritz Bits peanut butter sandwich crackers and a piece of a pretzel stick  that are coated in white chocolate. They are amazingly delicious!
My daughter helped me stir the food coloring into the chocolate, break the pretzel sticks and coat the shamrocks. I let her take complete control over the sprinkles.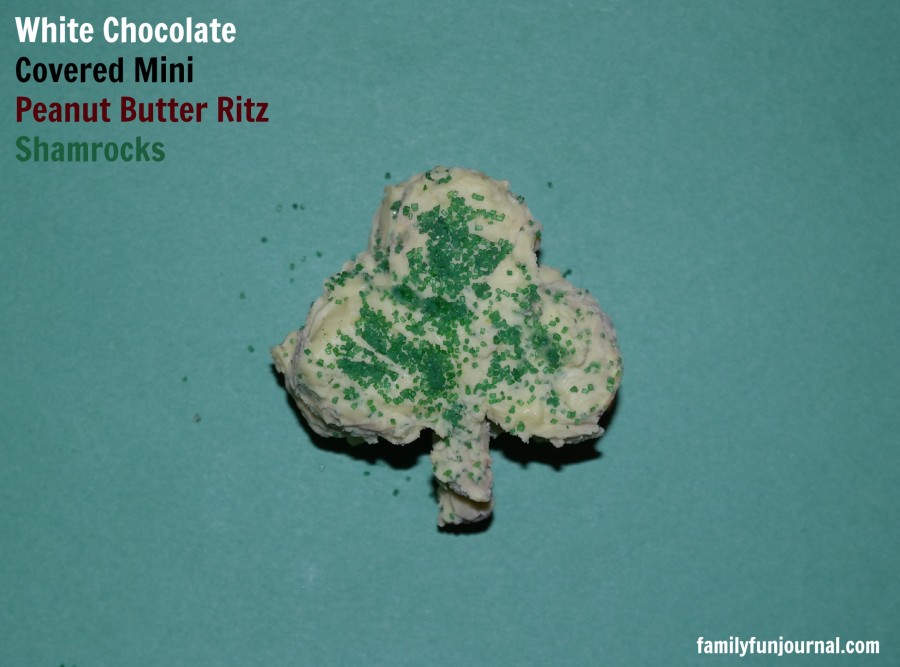 Shamrock Treat Recipe
Shamrock Treats
Author:
Family Fun Journal
Ingredients
Box of Ritz Bitz peanut butter cracker sandwiches
1 bag white chocolate chips
Green food coloring
Green sprinkles
12 pretzel sticks
Instructions
Melt the white chocolate in the microwave on low for ten seconds at a time, stirring in between.
Add a few drops of green food coloring.
On a wire rack, lay out your shamrock pattern (three Ritz bits and one half of a pretzel stick).
Coat in white chocolate.
Cover with green sprinkles.
Allow to harden for 1-2 hours.
To keep our counters clean, I put wax paper underneath the wire racks and on our work surface. By doing this, clean up was super easy. I just had to throw away the leftover sprinkles and chocolate splatters.
I hope you and your kids enjoy these delicious shamrock treats.  To find more fun activities and recipes, check these St Patricks Day posts.