I love the holidays. I especially love the cookies! This year, I wanted to make a unique Christmas cookie. So, I made peppermint red velvet sandwich cookies.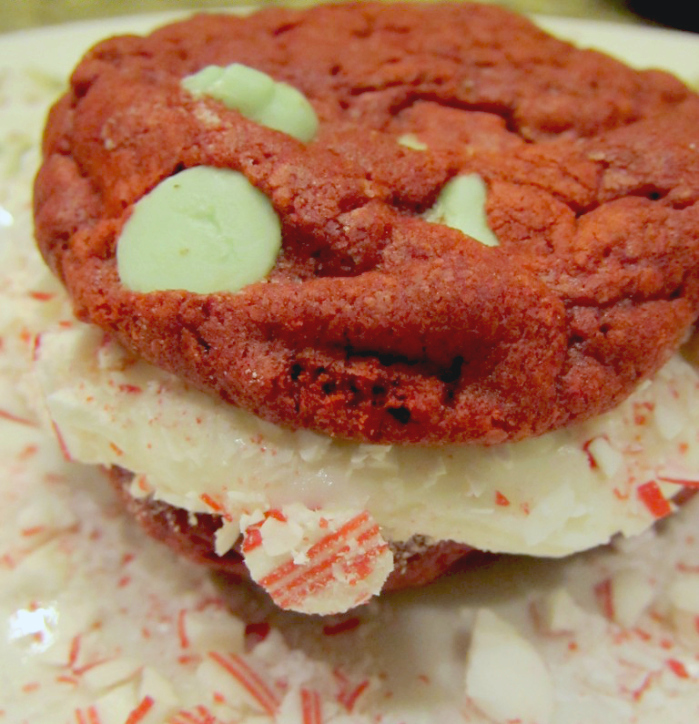 This Christmas cookie is amazing. I love that they are a little different than the expected cookies you find around the holidays.
These cookies combine two of my favorite things: chocolate and mint. Not to mention, this sandwich cookie is filled with amazing frosting.
If you want a great recipe that will make you the star of any holiday party or cookie exchange, look no further.
Not only does this red velvet cookie taste great, it also looks really pretty.
I'm so excited that this recipe was chosen to be featured in the SITS Girls Holiday Cookie eBook.
Peppermint Red Velvet Sandwich Cookies
Peppermint Red Velvet Sandwich Cookies
Ingredients
1 box red velvet cake mix
2 eggs
½ cup butter
¼ cup brown sugar
1 tsp. vanilla
1 cup mint & dark chocolate chips
Peppermint Cream Cheese Frosting
4 oz. cream cheese
8 oz. marshmallow fluff
1 Tbsp. butter
⅛ tsp. peppermint extract
4 cups powder sugar
1 cup candy cane dust/pieces (break up a few candy canes in a plastic bag)
Instructions
Add the mix, eggs, butter, sugar and vanilla and stir until it forms a soft dough.
Add the mint chips.
Spoon the dough onto an ungreased cookie sheet.
Bake at 350 for 10-12 minutes.
Once cooled, turn one cookie upside down and frost the bottom.
Sprinkle the candy cane pieces on the edge of the frosting and top with another cookie.
Peppermint Cream Cheese Frosting Instructions
Beat the cream cheese, fluff, butter and peppermint until incorporated.
Add the powdered sugar.
Beat until it is a smooth consistency.
Spread the frosting between two cooled cookies.
Roll the exposed frosting in the candy cane pieces.
I hope you enjoy these amazing cookies! Not only do they look pretty, they taste great!
If you like these treats, check out:
Chocolate Chip Cookie Dough Frosting Sandwich Cookies