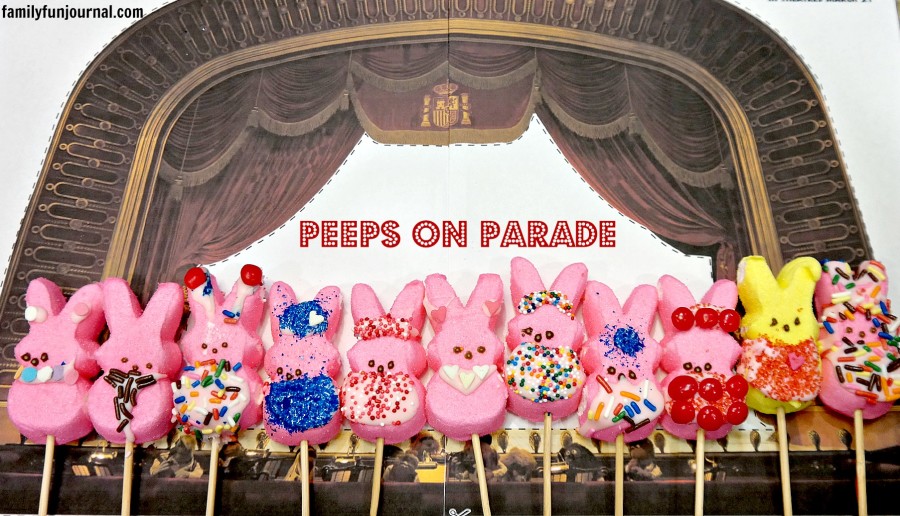 My family is really into Peeps. My husband and daughter really love them. What could possibly be better than eating a marshmallow Peep? How about an awesome Peeps on Parade Fashion Show! Your kids will have SO much fun with this creative activity.
It is so easy to create a fashion show with Peeps. You simply decorate the Peeps with frosting and sprinkles to create "clothing" for the little marshmallows. You can create a wide variety of looks. You can use any kind of sprinkles or small candies that you already have in your pantry.
We put the Peeps on sticks so that we could use them like puppets. We then printed out the Muppets printable stage and used it as the backdrop for our fabulous fashion show.
Our Peeps are wearing the latest fashions created with frosting, different types of sprinkles and red hot candies. We created dresses, hats, earrings, necklaces, neck ties and even a hooded outfit for our Peeps.
Peeps on Parade Instructions
Ingredients/Supplies
Bunny Peeps
A variety of sprinkles and/or small candies
Betty Crocker Cookie Icing in a pouch
Skewers or sticks for the Peeps
Instructions
Print out the Muppets stage and tape it together.
Stick a skewer through each Peep.
Use the frosting to create clothing and/or accessories on each Peep.
Cover the frosted area with sprinkles and/or candy.
Allow the icing to harden before playing with the Peeps.
I hope you and your kids have a blast with your very own Peeps fashion show.  We had a ton of fun with our show. I also want to mention that the Peeps taste great with the frosting and extra sprinkles. I love activities that are fun and edible!
For more fun with Peeps, check out these Jello Peep Treats and Peeps in a Nest. If you've done a post featuring Peeps, leave a link in the comments below. I'd love to check it out!