I received P. King Duckling Seize The Day to facilitate this review. All thoughts and opinions are my own.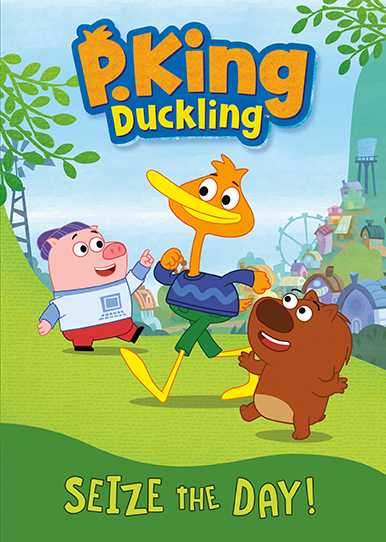 For super kid-friendly fun, check out P. King Duckling Seize The Day! Thanks to Shout! Kids, in collaboration with UYoung, you can watch seven episodes of P. King Duckling.
P. King is an adorable young duck who loves adventure. Along with his two best friends, Chumpkins and Wombat, he sets out to find entertaining ways to make every moment memorable. So, he often comes up with ideas that lead to all kinds of zany fun! Wombat is always willing to lend her opinion and help in making plans. Chumpkin, the ever sarcastic pig, loves machines and turnips!
It is hilarious to watch this trio of friends get themselves into and out of all kinds of sticky situations. As an added bonus, while watching the DVD, your child will engage in problem-solving and creative thinking.
This DVD is perfect for younger children. It features simple graphics in vivid colors that will capture their attention.
My daughter really enjoyed watching P. King Duck Seize The Day. She thought the episodes were hilarious!
P. King Duck Seize The Day Episodes:
Wombat's Big Surprise!/A Hill With A View
Speed King Duckling/P. King's Cool Castle
The Dog Fish/P. Kings Great Jog
Fowl Fashion/A day With A Panda
Will You Be My Mentor?/It's A Wonderful Chumpkins
Wombats In The Wild/Hi-Ho INflato-Man!
The Tetherball King/P. King's Cookie Farm
This entertaining series was created by Josh Selig (Sesame Street, Wonder Pets!) and features music from Grammy winner Marty Beller of They Might Be Giants.
For more information, visit Shout! Factory.