#disneysmmc @disneymoms Want to know everything about a Disney VIP Tours experience? Check out this post to learn all of the details about my family's VIP day.
(Disclosure: I was invited to attend the 2015 Disney Social Media Moms Celebration. I paid a conference fee and received discounted and/or complimentary items/experiences during my trip. I won the VIP Disney Tours experience during the conference. I was not asked to share my experiences. Im writing about them on my own.  All thoughts and opinions are my own.)
Attending the Disney Social Media Moms Conference was a dream come true. Who wouldn't be excited to visit the happiest place on earth?
We had an amazing time. For this post, I want to share a truly incredible opportunity my family was able to experience.
During the conference, I won one day with Disney VIP Tours. This opportunity allowed my family to visit Walt Disney World in a very unique way.
Disney VIP Tours
Did you know that Disney offers VIP tours?
Up to 10 guests can enjoy a truly one-of-a-kind way to see Walt Disney World.
Here are the basics of the Disney VIP Tour Services:
A VIP Tour Guide, who is a Disney expert, takes you through the parks.
VIP Tour Services customize your Walt Disney World experience based on your preferences.
Door to door transportation.
Special seating at select entertainment options.
Expedited entry to attractions (your tour guide serves as your FastPass+).
Our Disney VIP Tour
Meet Lauren (she's in the middle of the pic below). She is a VIP Tour Guide. In addition to being an amazing person, she is an expert in all things Disney. We liked her so much, she became part of our family for the day.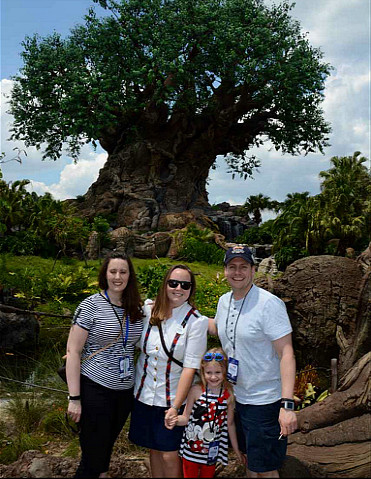 Our day started when Lauren picked us up at Downtown Disney. We liked her right away. She was so friendly and excited about our day together.
We spent a few minutes planning our day. Lauren knows all of the parks inside and out. She asked us about our preferences and made recommendations. Once we made plans, we set out on our VIP adventure!
We got into the tour van and Lauren drove us to Disney's Animal Kingdom Theme Park.
Kiliminjaro Safaris
At Lauren's suggestion, we went on the Kilminjaro Safaris. This was a really immersive, unique experience.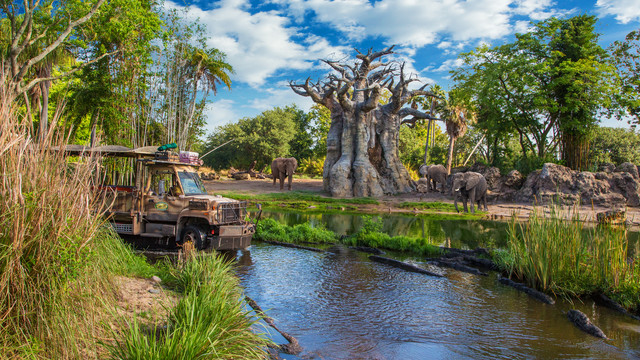 This tour takes place in an open air safari vehicle. For 18 minutes, you are transported to another environment, the Harambe Wildlife Reserve.
During the trip, the tour guide points out all of the animals. We really enjoyed this educational tour. We loved watching all of the animals in their natural habitats. It was incredible.
As we drove along, the guide stopped and showed us this elephant. Can you believe it?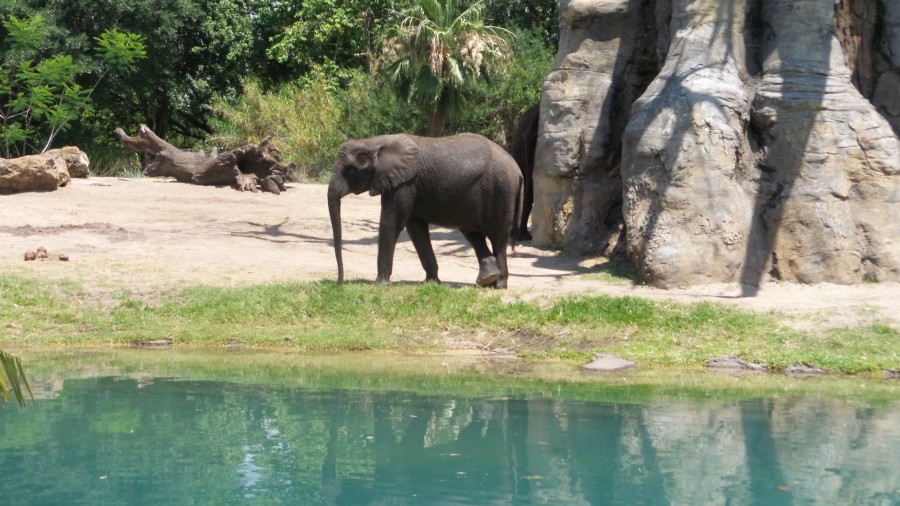 Check out these flamingos! My daughter loved watching them hang out together. Lauren told us there is a hidden Mickey in this area. Can you see it?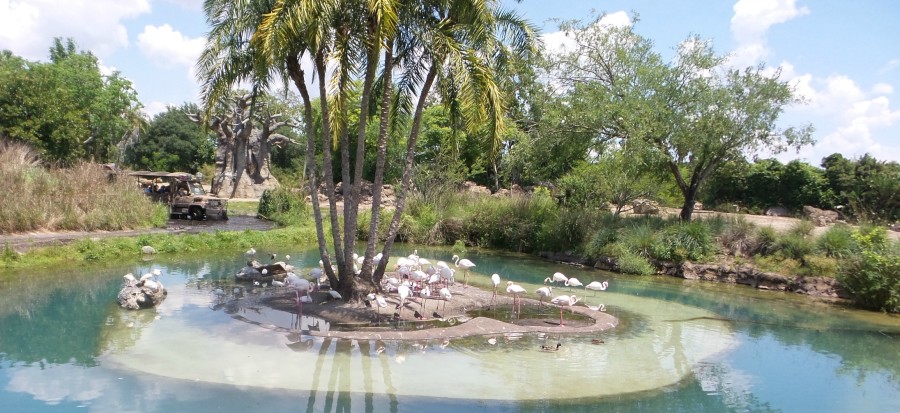 We also were able to see these crocodiles during our trip. I'm glad we were in the vehicle for this viewing experience!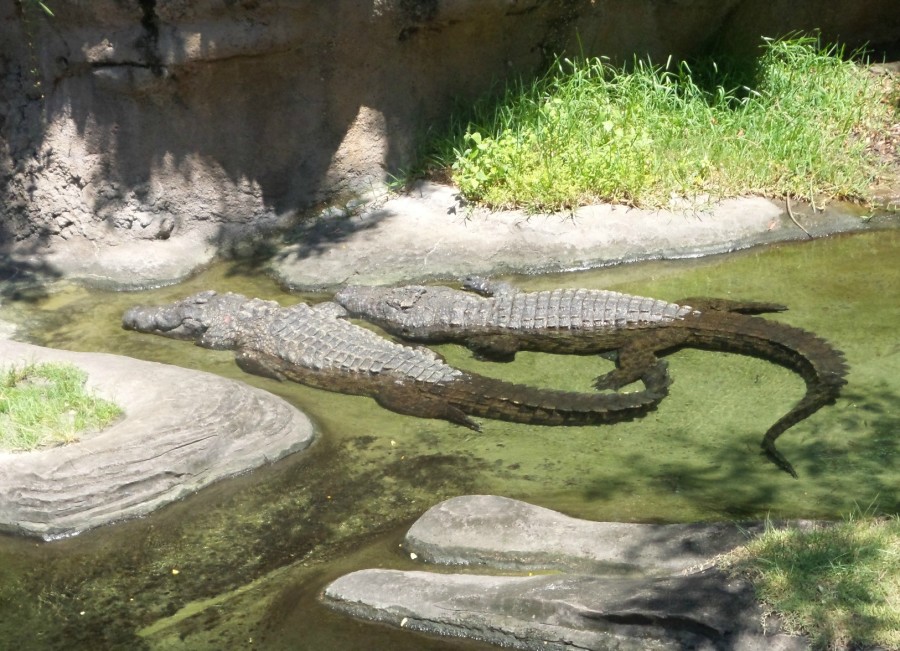 After this ride, we decided to get a drink and a snack. Lauren made suggestions on great snack and beverage options. She really does know everything about Disney World.
After our snack, we headed to our first live entertainment experience.
Festival Of The Lion King
The Festival Of The Lion King is a live show that celebrates everyone's favorite lion cub, Simba. This show is 30 minutes of nonstop entertainment. It is full of amazing singing, dancing, puppets, fire jugglers and so much more.
We sat right next to the stage. It was an awesome experience to have the actors perform their routines right next to our seats!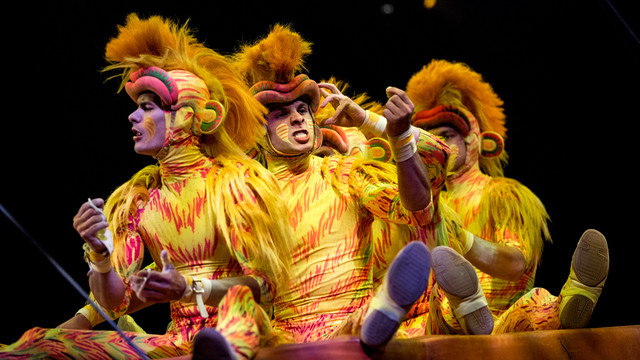 Even more incredible, my daughter got to participate in the show! She was so excited when one of the performers escorted her to the stage. She was given an instrument and danced around the stage with the performers. This was definitely a memorable experience!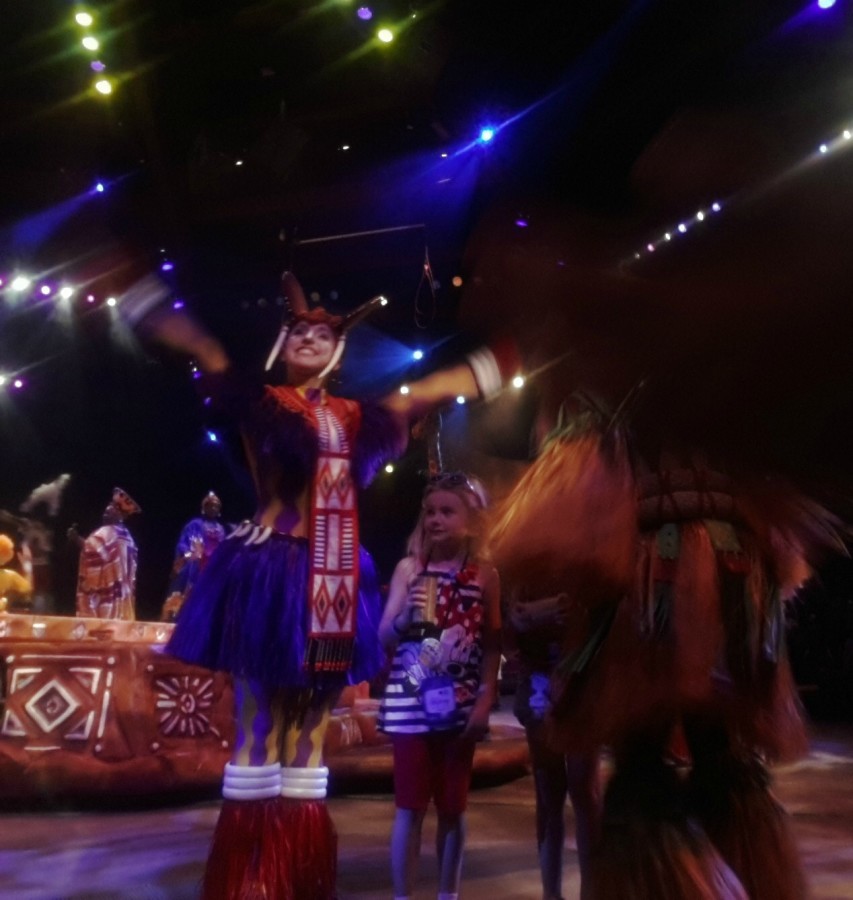 After this live show, we headed to another type of viewing entertainment…about bugs!
Tree of Life-It's Tough To Be A Bug
To get to the next show, It's Tough To Be A Bug, we walked to the giant tree in Animal Kingdom. You cant miss it. It is extremely large! The Tree Of Life houses the bug themed show. Yes, the tree is that big!
The tree, itself, is a form of entertainment. It is full of amazing animal carvings.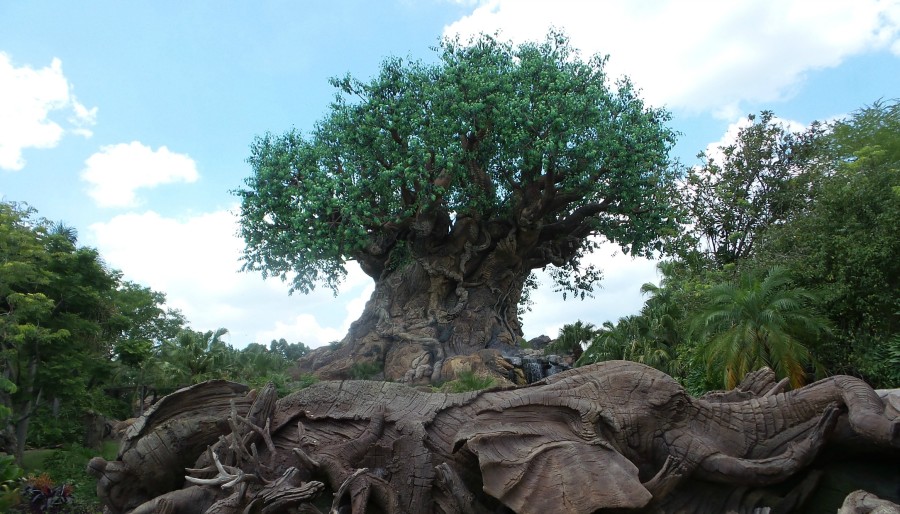 Here is a close up of several of the amazing animal designs in the Tree of Life. I can spot several in this photo. Can you?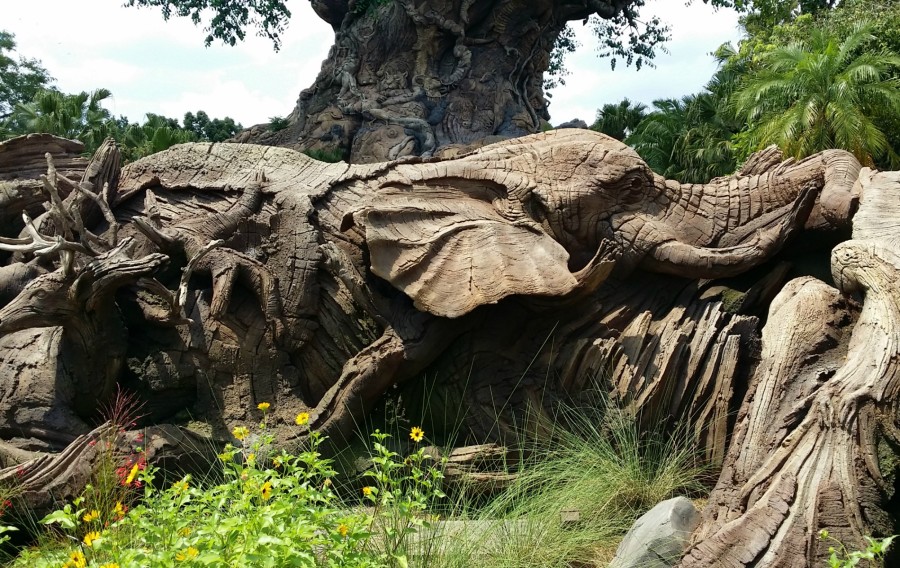 Once inside the theater, we got ready to view It's Tough To Be A Bug. This fun experience is based on the popular Disney-Pixar film, A Bug's Life. It is a combination 3D film and live show that is full of surprises. Don't worry, it doesn't involve any real bugs.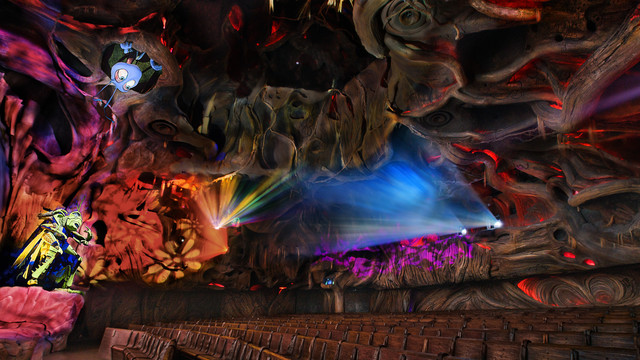 TriceraTop Spin
After the fun show, my daughter wanted to go on TriceraTop Spin. Since she loves dinosaurs, this ride was on the must-do list. This kid-friendly ride looks just like a toy tin top that 16 dinosaurs encircle.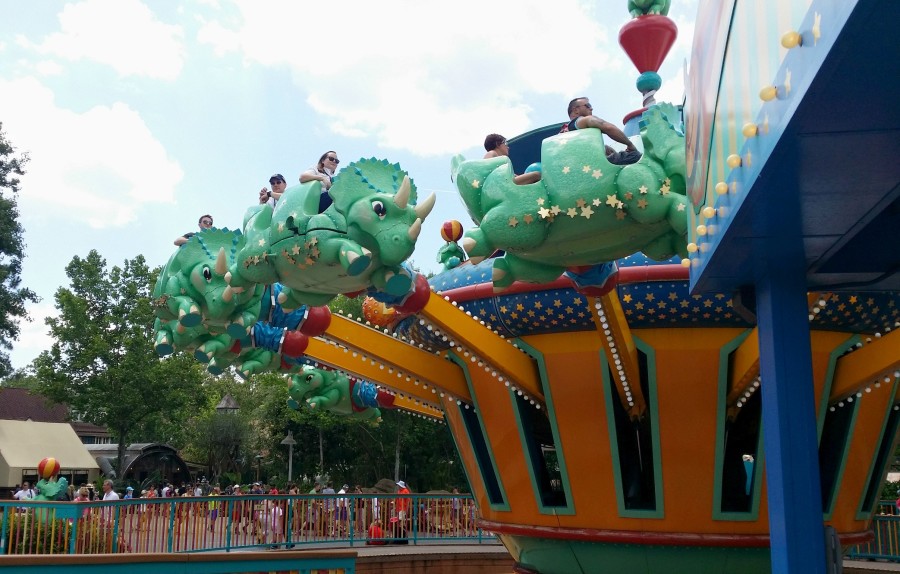 As you can see, Lauren joined us on the ride. She became my daughter's new best friend.
In addition to being incredibly friendly, Lauren did a great job of pointing out things of interest around Animal Kingdom. We spent a lot of time walking around and learning about the park.
We decided to end the day in Epcot. We grabbed dinner and enjoyed one final experience. We headed to Soarin.
Soarin
Soarin is an amazing ride. You feel like you are hand-gliding over California. You sit in a seat and are transported up to a big screen. I couldn't believe this ride was so realistic.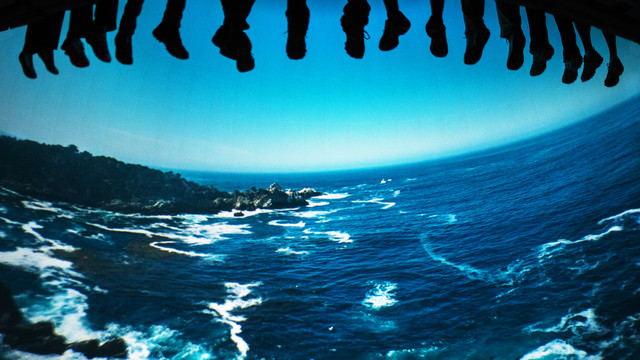 We loved that you could actually smell the scents of the different locations during the hand-gliding experience.
After the ride, we ended our day with this fun photo at Epcot.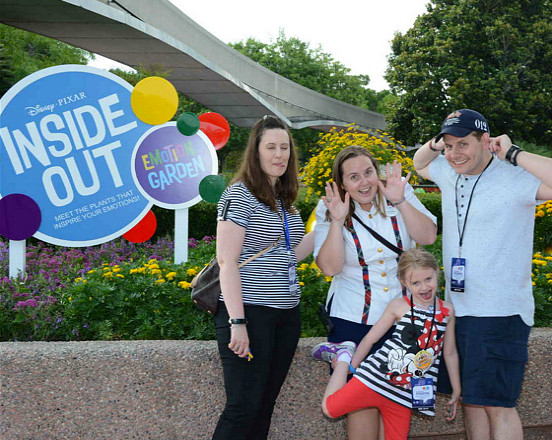 At the end of the day, we were so sad to part ways with Lauren. She brought our Walt Disney World experience to an entire new level.
To find out more information about enjoying your own VIP experience, visit Disney VIP Tour Services.