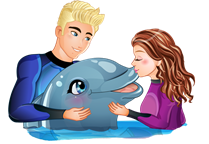 There is a super fun game that your kids will love to play on their Apple devices. My Dolphin Show is an interactive game that allows your kids to train and compete with dolphins.
My Dolphin Show Features:
Players train and compete with dolphins in a wide variety of shows and arenas.
The dolphins can jump through hoops, bash beach balls and splash the audience.
You can also customize your dolphin by dressing it in 40 different fun costumes!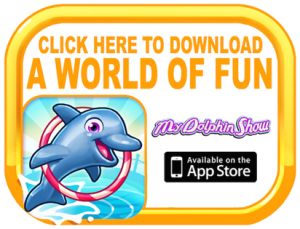 Here is a trailer from the game:

My Review:
This is one game that parents wont mind playing. As I helped my daughter set up the game, I couldnt help but join in on the fun.
The game is absolutely adorable. I love that my daughter can work on her hand eye coordination as she plays this fun dolphin themed game.
Even after she was finished playing, I have to admit…I played a few more rounds. It is so entertaining!
The practice levels are really engaging. After you've successfully completed these levels, you get to compete before an audience.
At the competition level, you get to put all of your practiced skills into one big performance.
My daughter and I really loved the great assortment of costumes. Our favorite costume was the banana. We loved watching the dolphin swim around in the banana costume.
All in all, this is a great game. We played through the first few levels and found it extremely entertaining.
My Dolphin Show New Edition
Spil Games has released the latest update to My Dolphin Show.
In this newest edition of the game, you can take your dolphin to a new amusement park world where it can jump, flip and entertain the audience.
This fun-filled world includes a free fall tower, roller coasters and a ferris wheel.
During this new level, you can earn four new costumes that are equipped with really cool features. Here are two of the new costumes:

Family Fun Journal readers can follow the instructions in the image below to get 300,000 free coins. Isnt that awesome? For more information, click on the image.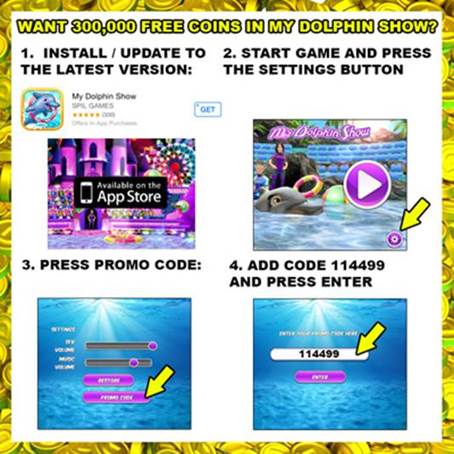 My Dolphin Show is now available on the iTunes App Store for only $1.99.
To interact with even more My Dolphin Show features, visit them on Facebook or the official Web site.
Disclosure: I received this game to facilitate this review. All thoughts and opinions are my own.