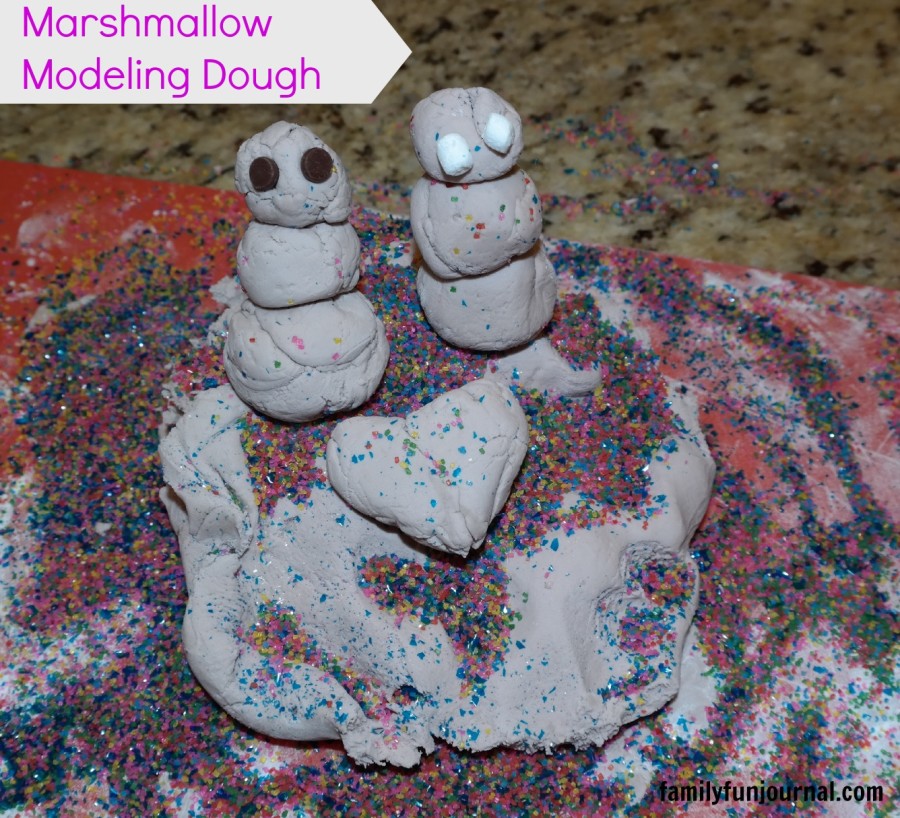 Imagine an edible playdough that hardens after you've made your creation. This fun marshmallow modeling playdough recipe is so easy to put together. It is similar to modeling clay with one big difference: you can eat it!
Your kids will spend hours playing with this fun stuff. It has a unique consistency, like a cross between silly putty and playdough. It also tastes great.
With all the different flavors of marshmallows out there, you can easily change the flavor and color of this playdough recipe. I used chocolate covered strawberry flavored marshmallows, which gave my playdough a great flavor.
[print_this]
Marshmallow Modeling Playdough Recipe
Ingredients
1 Tbsp. Water
1 cup Corn Starch
2 cups Powered Sugar
8 oz. Marshmallows
Toppings
Instructions
Melt the marshmallows with 1 Tbsp. of water on the stove over low heat.
Once melted, add to a bowl of the corn starch and  powdered sugar.
Stir until everything is incorporated.
Put on a flat surface.
With a little bit of corn starch, knead the dough until it reaches a smooth consistency.
Form a ball.
Use sprinkles, chocolate chips or whatever kind of fun toppings you have in your kitchen.
[/print_this]
I let my daughter play with this on a cutting board in the kitchen. I gave her sprinkles, chocolate chips and mini marshmallows to use with the playdough. She also used cookie cutters to cut out shapes. She enjoyed making pretend cookies with the playdough.
She had so much fun making shapes and putting sprinkles on everything. After she was finished, we left her favorite creations on the counter to harden. It takes several hours for the dough to harden. My daughter made snowmen and enjoyed checking them throughout the day to see if they had hardened yet.
I hope you and your kids enjoy using this marshmallow modeling playdough recipe to make fun creations.