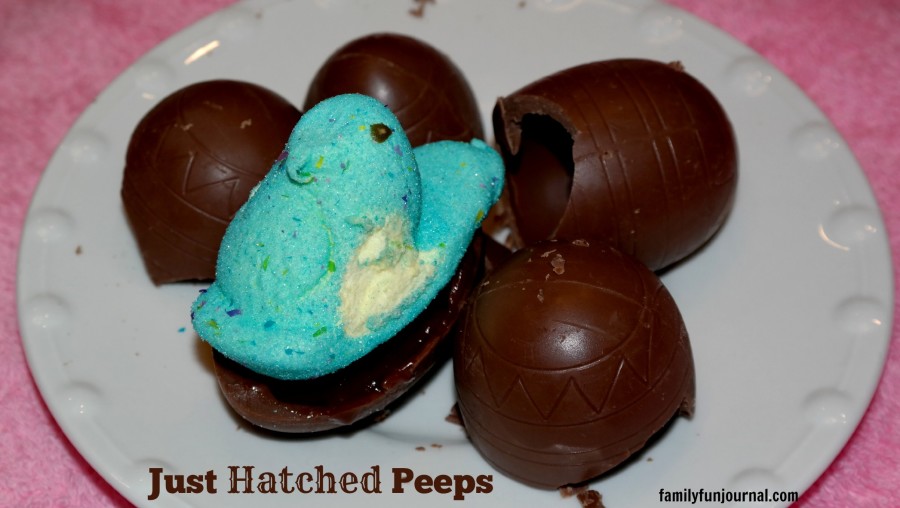 I hope you are excited about another Peeps recipe. Can you really get too much of the little marshmallow guys?
This little treat looks like a Peep just hatched out of its egg.
In my opinion, a Peep wouldn't hatch out of just an ordinary egg-only a chocolate egg fits the bill. But, this isn't any ordinary chocolate egg.
Why?
Because it is filled with chocolate pudding.
This simple little treat is so much fun. I didnt make this recipe with my daughter. Instead, I put it together as a fun after school surprise. She loved it and thought it was hilarious!
Just hatched Peeps are easy to eat because you just pick up the chocolate egg half to eat it. Imagine that this is a sort of deviled egg, but in dessert form. It is an adorable little creation that is half of a chocolate egg, filled with chocolate pudding and topped with a Peep.
To create the look in the photo, I put broken chocolate egg pieces around the Peep. You can make a huge plate of a bunch of these little eggs. It would be great for an Easter event.
You could easily use a different pudding flavor. I used chocolate, because it is our favorite flavor.
Just Hatched Peeps Recipe
Just Hatched Peeps
This cute little Easter treat looks like Peeps hatched out of chocolate eggs.
Author:
Family Fun Journal
Ingredients
Hollow chocolate Easter eggs (I purchased mine at Costco)
One box of Jello chocolate pudding
Peeps
Instructions
Make the pudding according to the package instructions.
Cut a hollow chocolate egg in half.
Fill the halves with chocolate pudding.
Top each pudding filled half with a Peep
Scatter pieces of broken chocolate eggs around the plate to make it look like Peeps hatched out of the shells.
An important tip, dip your knife in hot water before cutting the hollow egg in half. It makes things a lot easier.
I hope you have a Peeptastic Day!