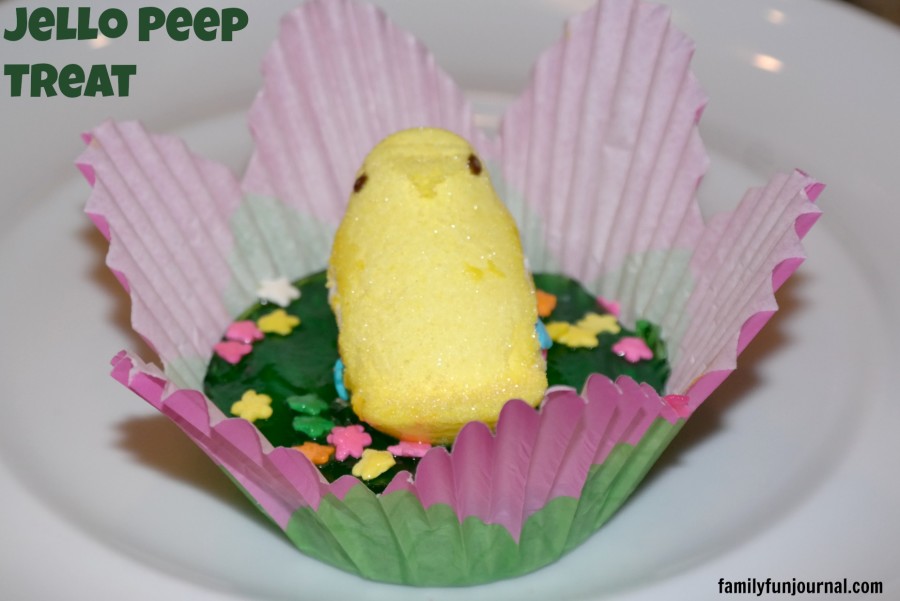 If you've ever had Jello with marshmallows in it, you know that the two are a winning combination. If you add some sprinkles and a pretty flower cupcake paper, you have a treat that kids will LOVE to eat and make in the kitchen.
I love this recipe because it is so versatile. You can change the look of it by using a different colors of Jello, Peeps and/or cupcake papers. You can also tailor it with your child's favorite Jello flavor.
These treats are perfect for spring and Easter because they are so bright and colorful. The flower cupcake paper also helps add to the spring and Easter theme.
This treat looks like a Peep sitting on a flower. It is so adorable and your kids will have so much fun making Jello Peep Treats.
Jello Peep Treats
Jello Peep Treats
Jello Peep treats are a fun kid-friendly recipe.
Author:
Family Fun Journal
Ingredients
2&1/2 cups boiling water
2 (8-serving size) boxes of Jello
Peeps
Flower cupcake papers
Sprinkles
Cupcake pan
Instructions
In a large bowl, add boiling water to the Jello. Mix until completely dissolved.
Divide the Jello among the cupcake pan sections.
In a few hours, right before the jello is completely set, add a Peep to each Jello cupcake.
Once set, dip bottom of pan into warm water for 15 seconds to help loosen the Jello.
Take each cupcake shaped Jello form and put it inside a pretty flower cupcake paper.
Add sprinkles.
Store in a covered container in the refrigerator.
You don't have to use cupcake papers. I chose to use them because they make the Jello look pretty and they make it easier to hold and serve the treat. The Jello is in the form of a jiggler and can totally be eaten by hand without a mess.
I hope you and your kids enjoy these Jello Peep Treats!