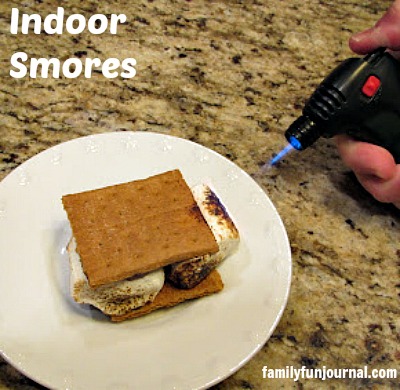 It is so easy and fun to make smores indoors. Your whole family will enjoy getting involved in the process.
We all have torches we purchased under the assumption we would regularly make creme brulee —and then only made it once. In order to put mine to good use, I decided to break out our torch and make smores.
Since this summer has been sweltering, my husband and I were not interested in standing outside roasting marshmallows while getting attacked by mosquitoes. If you've ever been to Texas, you know that the mosquitoes are ridiculous.
However, we still wanted to have smores. So, we decided to make them anyway. Basically, we assembled each smore, toasted the marshmallows (with the torch) and then microwaved the whole smore for a few seconds.
I have to say they exceeded my expectations. I will definitely make them again in the very near future. Plus, it was kind of fun to MacGyver a smore in my very own kitchen!
Indoor Smores Recipe
Indoor Smores
You can make smores indoors, regardless of the weather.
Author:
Family Fun Journal
Ingredients
1 package of graham crackers
2 bars of Hershey's chocolate
1 bag of marshmallows
1 torch
Instructions
Place a graham cracker on a plate.
Top with 3-4 pieces of chocolate.
Top with 3 marshmallows.
Using your torch, toast the top of the marshmallows.
Top with a second graham cracker.
Microwave for 5-10 seconds, until marshmallows are puffy and chocolate is melted.
By the way, Happy Toasted Marshmallow Day!