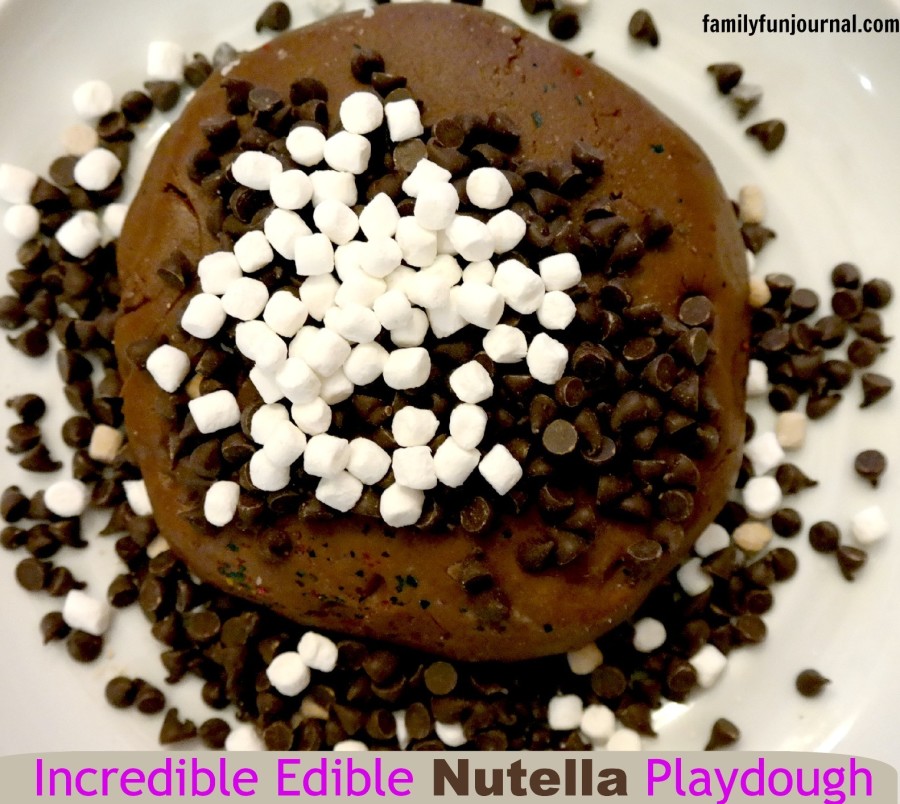 Nutella is awesome stuff. I know most kids love eating it. My daughter is one of those kids. She loves Nutella and can eat it all by itself.
If your kids love this chocolatey hazelnut spread, here is a great activity.
This activity creates an edible Nutella flavored playdough! This Nutella playdough recipe is super simple and it tastes great!
This is one type of playdough you wont have to worry about your children eating.
Nutella Playdough Recipe
Incredible Edible Nutella Playdough
Ingredients
½ cup Nutella
⅓ cup marshmallow fluff
¼ + 2 Tbsp. of powdered sugar
1 tsp. flour
1 tsp. corn starch
½ tsp water
Sprinkles
Mini marshmallows
Mini chocolate chips
Instructions
Mix all of the ingredients together in a large bowl.
Once combined, take the mixture out of the bowl and knead a few times on the counter, adding extra corn starch to reduce stickiness.
You can add sprinkles to the dough as you knead it.
This dough is so much fun. I love playtime activities that are also hands on learning experiences. This edible activity is great because your children can work with the dough, practice cutting out shapes and pretend to cook in the kitchen.
To put this activity together, I set up a play area on my kitchen island.
I put the mini chips, marshmallows and sprinkles out on the counter and let my daughter add them to the dough.
I also set out supplies like cookie cutters, a rolling pin and spatulas. I always set out my alphabet cookie cutters. When my daughter uses them, she has fun practicing her letters. That is a win win for me.
We really enjoyed this Nutella activity. We spent a couple of hours in the kitchen playing with this stuff. My daughter thought it was really cool that she could eat the playdough.
My entire family thought this dough was delicious. I hope you and your kids have a blast with Nutella playdough!
If you love edible playtime activities, check out these fun posts: