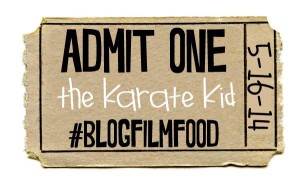 Welcome to Blog, Film, Food!
This is a fun monthly event that centers around a movie theme. The movie for this month is The Karate Kid.
Along with a group of my favorite bloggers, I am going to post a recipe related to this classic film. After you read this post, hop on over to their sites to check out their culinary contributions.
I loved The Karate Kid movie. I enjoy stories about an underdog who works hard to become a champion. Of course, no one will ever forget the popular "wax on wax off" phrase from the movie. I think that phrase is one of the most memorable from the film.
In honor of this classic movie, I'm posting a recipe for sesame candy. If you've ever had sesame candy, you know that the combination is nothing short of delicious. Sometimes, this candy can be hard to find in stores. Now, you can make it in your own kitchen.
Like the Karate Kid, the sesame seeds in my recipe seem small and incapable of becoming something spectacular. However, they come together to form a surprisingly amazing candy.
If you love sesame seeds, you will really, really enjoy this unique candy.
Homemade Sesame Candy
This recipe is very kid friendly. I let my daughter do the stirring and she helped wrap the candies in plastic wrap. Use caution when dealing with the hot honey and brown sugar mixture.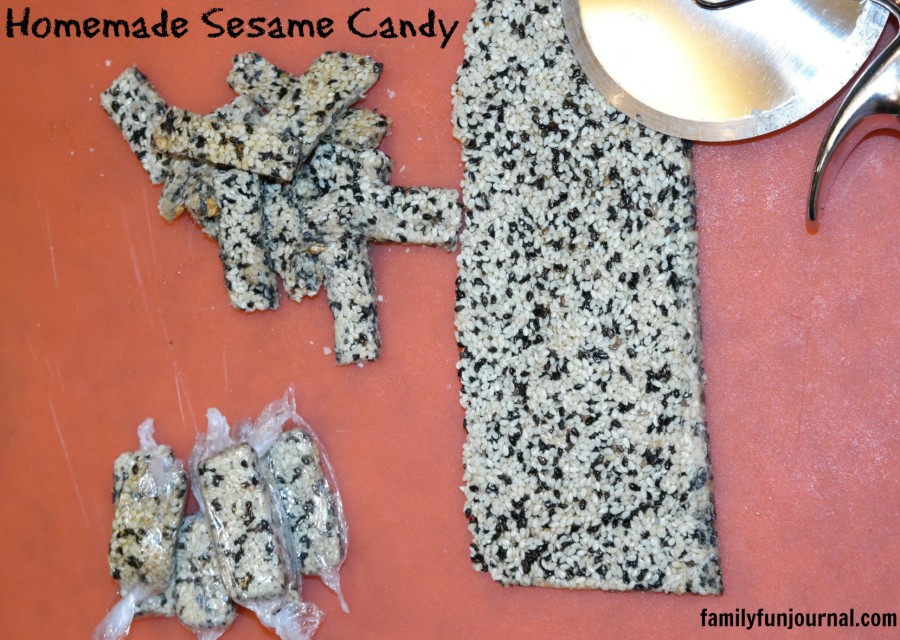 Homemade Sesame Candy Recipe
Homemade Sesame Candy
Ingredients
¾ cup sesame seeds
¼ black sesame seeds
¼ cup honey
¼ cup brown sugar
dash of salt
¼ tsp. vanilla
Parchment paper
Plastic wrap
Cooking spray
Instructions
Line a cookie sheet with parchment paper. Coat with cooking spray.
In a pot, combine honey and brown sugar. Cook over medium heat for 3-5 minutes until bubbling. Remove from heat and add the salt and vanilla.
Add the sesame seeds to the hot mixture. Using a greased spatula, press the mixture into the cookie sheet forming a thin, even layer.
Allow to cool and harden.
Using a pizza slicer, cut 2 x ½ inch pieces of candy. Wrap in a small piece of plastic wrap and twist the ends around the candy.
Now that you've seen my recipe for homemade sesame candy, check out the rest of The Karate Kid Blog, Film, Food menu. My fellow bloggers have outdone themselves with their dishes.
Easy Shrimp Pork Spring Rolls from Meal Planning Magic
Flank Steak from Penney Lane Kitchen
Chicken Lettuce Wraps from Kirsten Oliphant
Chicken Lo Mein from Moms Confession
Caramel Banana Wontons from The Grant Life
Blueberry Cheesecake Egg Rolls from The Involuntary Housewife