This homemade macaroni and cheese with ham is so great. It is a fun play on the ham and cheese combination!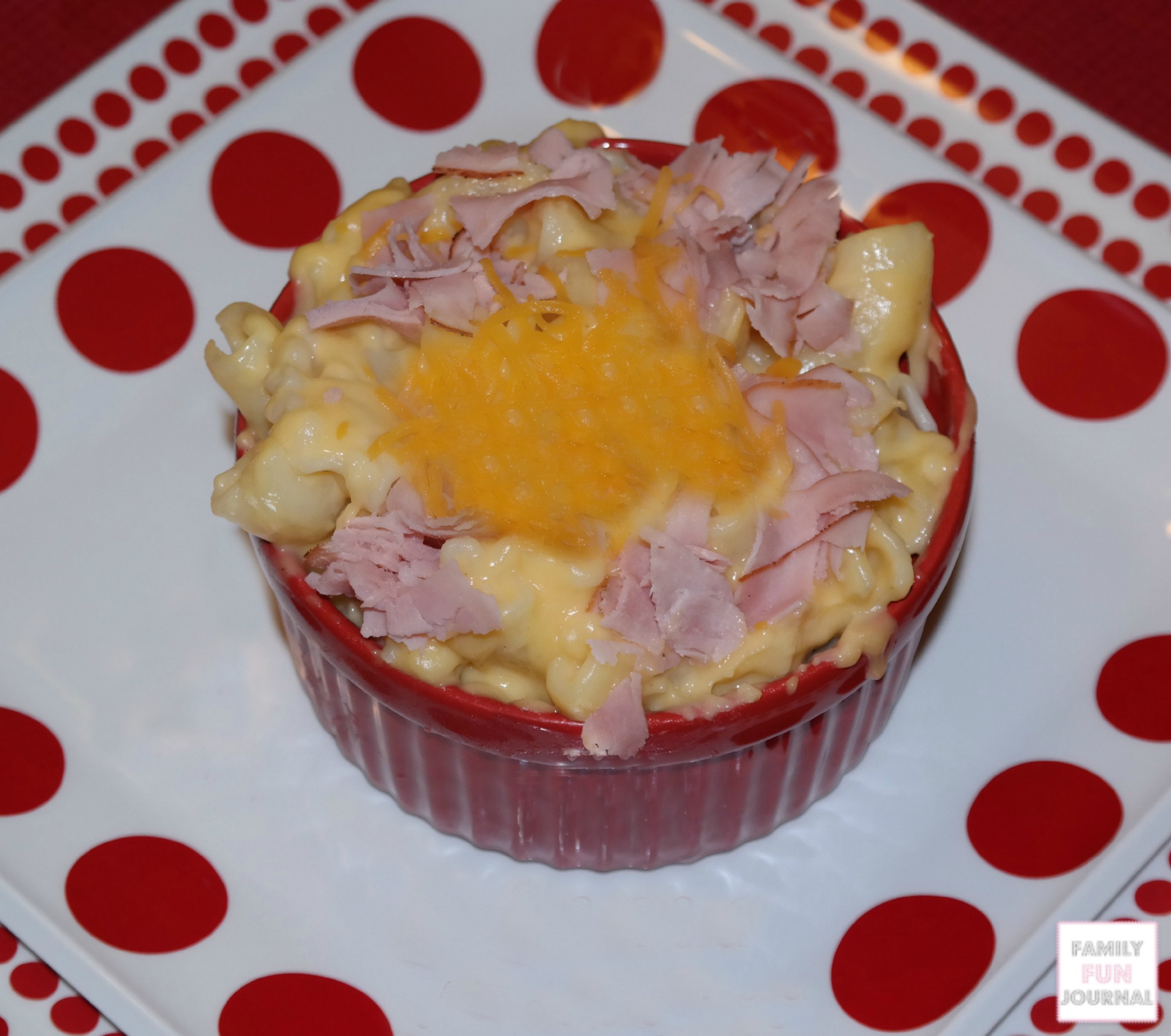 My daughter loves homemade macaroni and cheese. It is one of her favorite things to eat with dinner. Yes, I will admit, she does like the boxed version of macaroni and cheese. I think most kids love it.
When I have extra time, I love to make homemade macaroni and cheese. I just love the stuff. The other night, I decided to get creative and combine two of my daughter's favorite dishes: macaroni and cheese + ham and cheese. The result was an amazing, flavorful macaroni and cheese dish.
My daughter loved this dish and even asked me to put some of it in her lunch box for school. I have to add, it does taste pretty good cold, right out of the refrigerator.
This homemade macaroni and cheese is pretty amazing by itself. The addition of ham, however, takes it to a whole new level of deliciousness!
If you have a really picky eater in your house, this is a great way to get them to eat some protein with their noodles. You can also sneak in some finely chopped up vegetables.
Homemade macaroni and cheese with ham
Homemade macaroni & cheese with ham
Ingredients
6 cups of cooked noodles
2 Tbsp butter
2 Tbsp flour
1 tsp seasoned salt
1½ cups milk
2½ cups cheddar cheese
1 cup diced ham
Instructions
Cook your noodles, drain and set aside.
Melt the butter in a pan.
Add the flour and stir until combined.
Cook over medium heat until bubbling.
Add the milk and seasoned salt and cook until thickened.
Add the cheese and stir until the cheese is melted and incorporated.
Add the ham and stir to combine.
(optional)Top with extra cheese and ham.
Pour over the noodles and top with extra cheese.
I used black forest ham from the deli counter. However, you can use any type of ham.
Also, you don't have to use seasoned salt. I just really like the way it adds flavor to recipes. You could just add regular salt. It is completely up to you.
I know a lot of people use different types of cheeses in their macaroni and cheese. However, because this is for my daughter, I stuck with cheddar. Also, I love that you don't have to bake this version of homemade macaroni and cheese, which helps speed up mealtime prep.
I have to mention that I do love macaroni and cheese that is baked and topped with bread crumbs. If you are interested, check out this recipe for baked creamy macaroni and cheese.