This Disney Fairy Godmother House is the perfect garden home for everyone's favorite winged guardians: Flora, Fauna and Merryweather.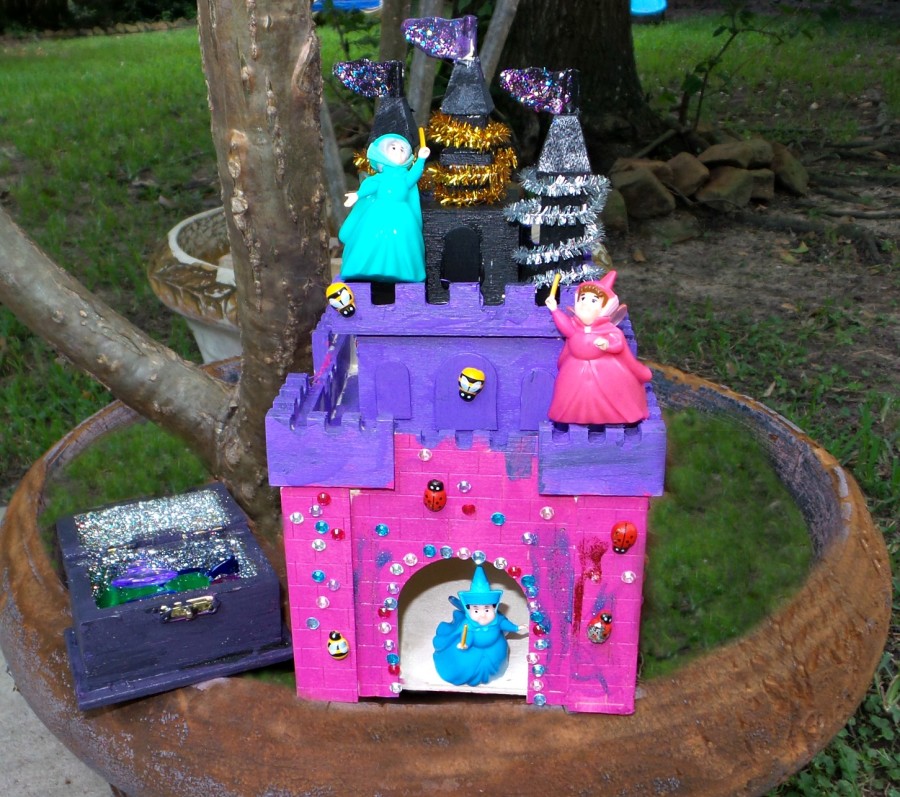 Fairy houses are so much fun. Not only do kids love them, they are a fun addition to a backyard garden.
Since my daughter has a toy set of Disney Fairy Godmothers, we decided to make a house for them. You may recognize these three magical ladies from from Sleeping Beauty or Sophia the First.
My daughter also wanted to include a sparkly chest full of magical gems. So, we also added that to our project list.
We purchased a simple castle structure and treasure chest from our local craft store. With a few supplies, we created a custom fairy house and magical treasure chest.
This project was a great way to fill a summer day with entertainment. We had so much fun creating our fairy godmother house and magical treasure chest.
Disney Fairy Godmother House
Supplies:
For the house:
Wood house
Foam brushes
Outdoor acrylic paint
Glitter glue
Stick on gems
Stick on wooden decorations (we used bees and ladybugs)
Pipe cleaners
For the treasure chest:
Wood treasure chest
Foam brushes
Glue
Glitter
Plastic gems
Instructions:
For the house:
Paint the house with the outdoor acrylic paint.
Allow to dry thoroughly.
Using glitter glue, let your child draw designs on the house.
Allow to dry.
Attach the gem stickers and wooden decorations.
Use the pipe cleaners to add extra decorations.
For the treasure chest:
Paint the outside of the chest black.
Allow to dry.
Cover the inside of the chest with glue.
Sprinkle glitter all over the glue.
Allow to dry.
Fill with plastic gems.
This craft was inexpensive, easy and incredibly creative. I hope your kids enjoy this fairy godmother house and treasure chest craft project!