School started this week. As a result, I'm having so much fun coming up with all kinds whacky school lunch ideas.
Last year, in preschool, my daughter ate peanut butter and jelly sandwiches a lot. She really, really loves them!
This year, my daughter's kindergarten classroom is a peanut free zone. Since she cannot eat her favorite peanut butter and jelly sandwiches at school, I have to be extra creative with her lunches.
When I spotted a bag of dinosaur shaped chicken nuggets at the grocery store, I knew I had to incorporate them into her school lunch. Since she loves both dinosaurs and chicken nuggets, I knew she would love to find them inside her lunchbox.
Using broccoli, olives, cheese and the dinosaur chicken nuggets, I created a scene inside one of her lunch containers.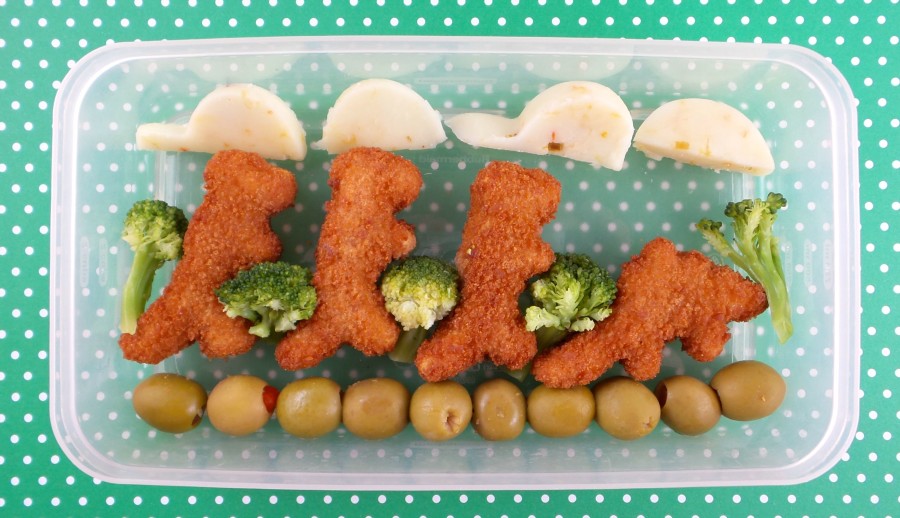 By making and prepping all of the ingredients ahead of time, it was really simple to put this lunch together. You probably have almost everything in your kitchen.
Dinosaur School Lunch
Dinosaur Themed School Lunch
Ingredients
Dinosaur shaped chicken nuggets
Broccoli
Cheese
Green olives
Instructions
Cook the dinosaur chicken nuggets according to package instructions.
In a school lunch container, place green olives on the bottom.
Place several dinosaur chicken nuggets on top of the olives.
Insert a piece of broccoli between each nugget.
Cut white cheese to resemble clouds. Place in a line at the top of the container.
I'm lucky that my daughter loves broccoli. If your kids don't like it, they might be willing to try it in this fun school lunch. If not, you could substitute zucchini, cucumbers, green peppers or some other green vegetable.
You could also pack dipping sauces like ketchup, ranch or barbecue sauce.
I hope your kids enjoy this dinosaur school lunch.
For another fun option, check out this Disney Themed School Lunch.