If you like corn, you will love this super delicious recipe for Mexican Street Corn. It is the ultimate way to eat corn on the cob.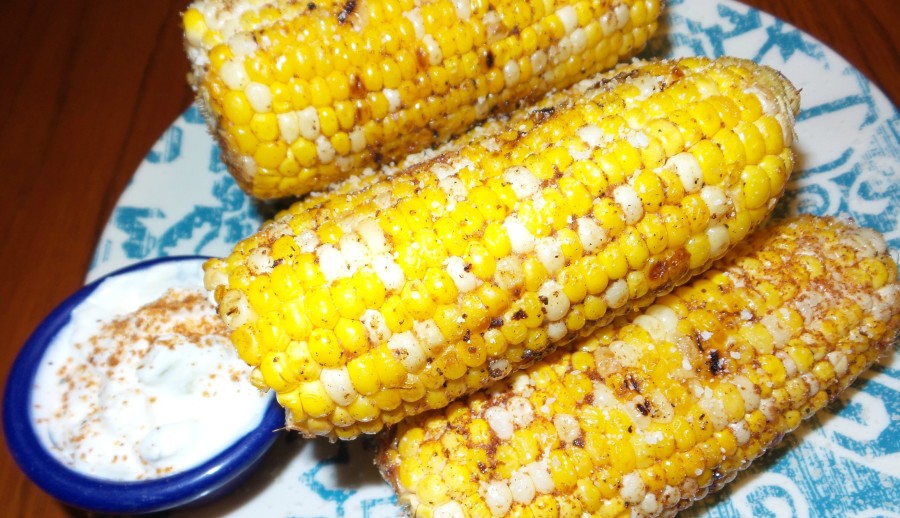 My favorite Mexican restaurant serves the most AMAZING Mexican Street Corn. It is one of the best things I've ever tasted. Seriously, ever. I order it whenever they offer it on the menu. My entire family loves the stuff.
This dish is the perfect combination of delicious corn on the cob, spices and a tangy sauce. When I first tried it, I couldn't decide whether it was too spicy or too tangy. After a couple of bites, I decided I didn't care! The flavors all came together to form one dynamite way to eat corn on the cob.
Since the restaurant only offers Mexican Street Corn a few times a year, I decided to put a recipe together in my own kitchen.
I'm so excited with the way this dish turned out. I look forward to making this new family favorite in the very near future.
Mexican Street Corn Recipe
The Most Delicious Mexican Street Corn
Ingredients
6 ears of corn
1 Tbsp of cajun seasoning
2 Tbsp. of oil
¼ cup parmesan cheese
Sauce
¼ cup sour cream
¼ cup butter
¼ tsp. lime juice
1 dill pickle finely chopped
Instructions
Preheat a grill pan over medium heat.
Lightly rub the corn with oil.
Sprinkle with cajun seasoning.
Cook over medium heat for 8-10 minutes.
Rotate the corn to get grill marks.
Sprinkle each ear of corn with parmesan cheese.
Sauce
Slightly melt the butter.
Combine with the sour cream.
Add the lime juice.
Stir in the finely chopped dill pickle.
When I made this in my kitchen, I used my cast iron grill pan. I think it really added to the smoky flavor of the Mexican Street Corn.
I hope your family enjoys this fun way to eat corn on the cob. Why not try it at your next barbecue?
Have you ever tried Mexican Street Corn? I would love to hear your thoughts.