I was provided with the opportunity to review this film. All thoughts and opinions are my own.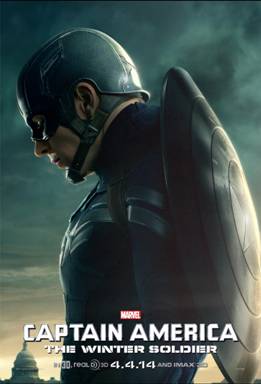 Captain America is an action packed movie that will leave you on the edge of your seats.
The film picks up after the events with The Avengers in New York. It starts out with Steve Rogers living in Washington, D.C. still trying to adapt to his modern surroundings. He is still a little out of his element with all of the advancements of the current time.
When a powerful S.H.I.E.L.D. friend comes under attack, Steve becomes embattled with a new enemy who threatens the world.
He joins forces with Black Widow and works to expose an enormous conspiracy while fighting off enemies.
Joining the team, is newcomer Falcon, who has the unique ability to provide air support with his wings.
The group has to take on the formidable Winter Soldier, who has a surprising connection to Captain America.
Check out this featurette-Captain America Blast From The Past:
I thought this movie was even better than the first Captain America film. I never got bored during this film because of it was so action packed. This movie is one I can definitely watch again. It has the perfect blend of suspense, action, heroism and a tiny bit of comedy. It is one great movie experience.
Captain America is presented by Marvel Studios. It stars Chris Evans, Scarlett Johansson, Sebastian Stan, Anthony Mackie, Cobie Smulders, Frank Grillo, Emily VanCamp, Hayley Atwell, Robert Redford and Samuel L. Jackson.
The film is directed by Anthony and Joe Russo and executive produced by Louis D'Esposito, Alan Fine, Victoria Alonso, Michael Grillo and Stan Lee.
To commemorate this film, here are several activity sheets featuring the main characters. To access the printables, click on the image. You will be taken to a pdf file that you can print. For more fun, print this  Captain America coloring book.