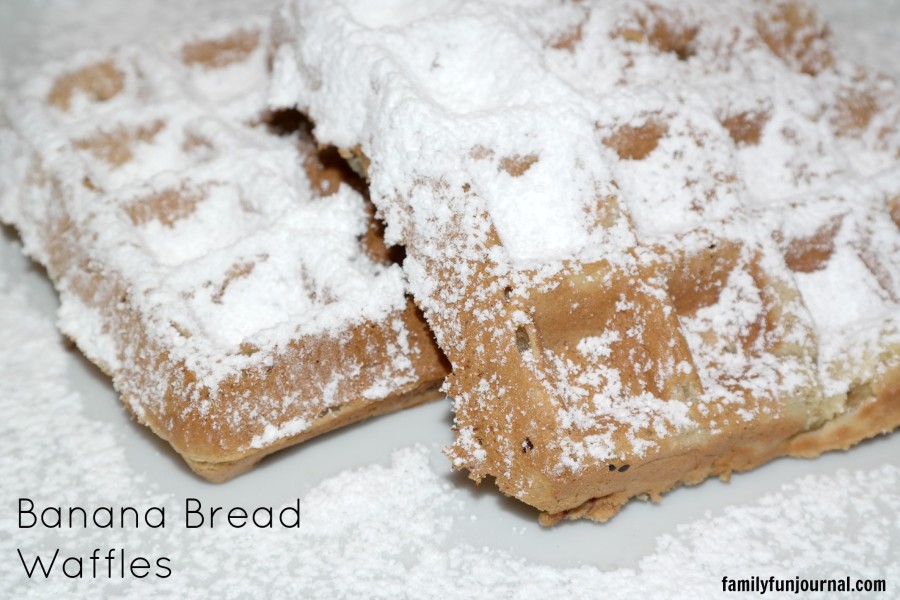 I really love banana bread. There really isn't anything like it. You know how sometimes you want banana bread but don't want to wait almost an hour for it to cook? The worst part about making banana bread is the wait. Right? Well, not anymore!
Enter banana bread waffles. Imagine a waffle with the flavor of amazing banana bread. These waffles provide instant banana bread gratification. Plus, you cant ever go wrong with waffles!
This breakfast meal is a big motivation to get out of bed in the morning. Not only do these waffles taste great, your house will be filled with the delicious aroma of baking banana bread.
I was surprised by how much my family raved about these waffles. My entire family LOVED these waffles. We all enjoyed eating them for breakfast. Even my husband, who isn't a big banana bread fan, liked eating these waffles.
Banana bread waffles taste great plain or topped with a little bit of butter. Because I'm adventurous, I decided to top mine with butter and powdered sugar. They were so good. The rest of my family decided to top their waffles with maple syrup.
If you want a break from the regular breakfast selections, check out these amazing banana bread waffles. It is always nice to change things up every once in a while.
I love these waffles, because the batter is packed with real bananas. It is so great that these waffles are filled with healthy fruit.
Banana Bread Waffles
Banana Bread Waffles
Ingredients
2 cups flour
1 & ½ tsp baking powder
½ tsp baking soda
¼ tsp salt
¼ tsp cinnamon
2 eggs
1 & ½ cups ripened bananas
¾ cup sugar
½ cup unsweetened apple sauce
Instructions
Combine the flour, baking powder, baking soda, salt and cinnamon.
In a separate bowl, combine the eggs, bananas, sugar and apple sauce.
Add the wet ingredients to the flour mixture.
Mix until thoroughly combined.
Use your waffle iron according to its instructions.
Serve waffles with powdered sugar or syrup.