If you are looking for a quick and easy meal option, check out this one pot pasta!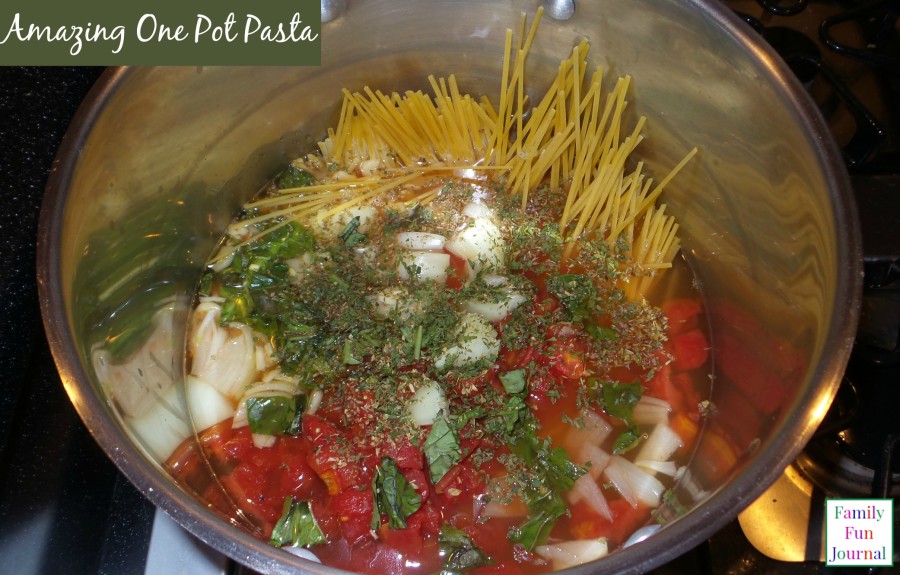 One pot pasta is so great! You dont have to boil water and wait for the pasta to cook before eating. This meal is so quick and easy. It is one of my favorites. I have to thank my sister Sarah for sharing this recipe with me!
During my last visit, she made this delicious one pot pasta. We were hooked! It is so unbelievably amazing. You just cant believe it. I would dare to say this is a restaurant quality meal. Trust me, you wont be disappointed.
Even the pickiest of eaters will love this pasta. However, the person who will love this the most: the cook!
You literally throw all of the ingredients into a pot. That's right, a single pot! You don't have to dirty multiple dishes for this amazing one pot pasta.
After you put everything into the pot, you have dinner in a little more than 10 minutes! Could this get any better?
Amazing One Pot Pasta Recipe
One Pot Pasta
Ingredients
12 ounces linguine
1 and ½ cans 15 oz + 7.5 of Diced Tomatoes with Basil, Garlic and Oregano (the tomatoes are already seasoned in the can)
1 medium onion cut into strips
4 cloves crushed garlic
½ tsp oregano leaves
½ tsp Italian seasoning
4 cups vegetable broth
1 tsp garlic salt
2 TBSP olive oil
1 small handful of basil diced
Parmesan cheese (the powdered kind works best)
Instructions
Put the pasta, tomatoes, onion and garlic in a large stockpot
Pour in vegetable broth
Add oregano
Add oil
Cover pot and bring to boil.
Reduce to low and keep covered. Cook for 10 minutes.
Add basil and stir.
Top with Parmesan cheese.
I hope you enjoy this delicious one pot pasta! It is a really easy way to make a quick and delicious meal.
If you like this recipe, check out these posts: