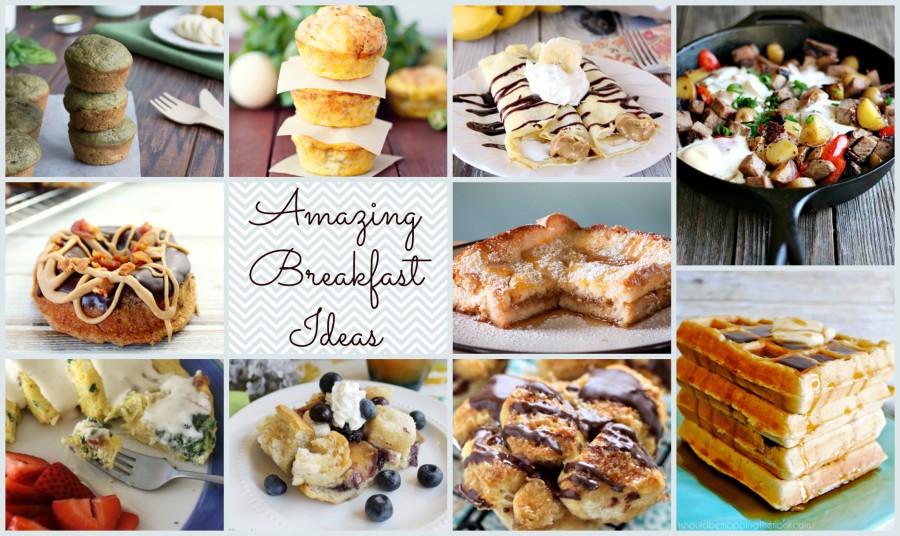 I love breakfast. It can be one of the best meals of the day. Since I'm not a morning person, I like to reward myself for getting up with an amazing breakfast. Sometimes, it is just the extra incentive I need to get out of bed early in the morning.
Here are my favorite breakfast themed recipes from the Life of the Party Link Up last week. Join us every Thursday at 7 p.m. central for link up party fun!
The Green Monster Smoothie Muffins from The First Year Blog are a great way to start the day. These muffins are packed with fruit, vegetables and protein. Plus, I love the name. I bet I could get my daughter to eat these muffins because they have the word "monster" in the name.
The Salsa Egg Bites from Mrs. Three In Three are a complete breakfast in one bite. The combination of eggs, cheese, potatoes and salsa sounds pretty terrific.
The Banana Fluffernutter Crepes from Love Bakes Good Cakes look amazing! I can only imagine how delicious crepes taste filled with peanut butter, fluffernutter and bananas.
The Corned Beef Hash and Eggs meal from Heather's French Press looks divine. I confess. Ive never had corned beef hash. I'm a corned beef fan, but have never had it for breakfast. I cant wait to try out this hearty looking meal.
Can you even contemplate the awesomeness of banana, peanut butter, chocolate and bacon combined to form one heck of a donut? The Elvis Donuts from Love Bakes Good Cakes look like a crowd pleaser.
The French Toast Casserole from Love, Pasta and a Tool Belt has my vote. I will pretty much eat any kind of French toast. This casserole looks really decadent. I'm sure my family would race to the table to consume this winning dish.
Pasta and Alfredo sauce for breakfast? Sign me up. This Frittata Carbonara from White Lights on Wednesday is so unique. I cannot wait to surprise my family with a frittata full of pasta and topped with Alfredo sauce. 
In my opinion, the more French toast, the merrier. Here is a recipe for Overnight Blueberry French Toast Casserole from A Little Claireification. I think blueberry French toast is an ideal Spring breakfast.  I love that it will also look pretty on the breakfast table.
I love samoa cookies. They are my favorite. I also love monkey bread. Put the two together, and you have scrumptious Samoa Monkey Bread Muffins from Julie's Eats and Treats. I cannot wait to try this one out.
I love Coffee-Mate Creamer. I can only imagine that my morning coffee would taste pretty great paired with the incredible Fluffy Waffles Made With Coffee-Mate Creamer from I Should Be Mopping The Floor.
So, the next time you reach for the cereal box, think about trying one of these amazing breakfast meals!