Disclosure: I will be provided with the opportunity to attend this event in exchange for coverage. All thoughts and opinions are my own.

The 29th annual Wings Over Houston Airshow is the ultimate family fun destination. What started in 1985 as a small attraction, has turned into a major event with a worldwide audience. More than 85,000 visitors come from all over the world to catch sites of historic and modern aviation marvels.
If you are concerned that the government shutdown will negatively impact the airshow, think again. According to Bill Roach, airshow director, "Although the Thunderbirds and other military acts are grounded from airshows due to federal government budget cuts, this enabled us to put together a show that includes a tribute to Korean War veterans, a terrific Disney 'Planes' show, amazing aerobatic performances and significantly expanded activities for children. At Wings Over Houston, history comes to life with authentic aircraft demonstrations and re-enactments that honor our military veterans and active-duty service men and women."
Your entire family will enjoy this experience. During the event, you can check out the aircrafts on display and talk with their owners/representatives. These individuals are extremely knowledgeable and you will learn a lot about aircraft.  Not only can you see modern airplanes up close, you can also check out many historic planes.
The main attraction of the airshow occurs in the sky. You will be amazed at the aerial performances of the pilots during the show. My absolute favorite performance is TORA TORA TORA, the recreation of the Japanese attack on Pearl Harbor. I've seen this performance countless times. I am always very impressed with the entire event.
This year, young children will be entertained by the performance of the star of the Disney movie "Planes." This performance will take place in the world's only flying B-29 Superfortress.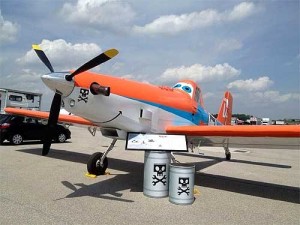 Here are some Wings Over Houston Airshow highlights:
Aerial Acrobatics by Michael Goulian in what is considered the world's most high performance airplane, the EXTRA 330SC.
Matt Younkin will do a performance in a Twin Beech18, a plane built and assigned for training in World War II at Ellington Field.
An a amazing skydive by the RE/MAX Skydive Team
Vintage military flight demonstrations including a 60th Anniversary Korean War Tribute
The recreation of the Japanese attack on Pearl Harbor
Your entire family will enjoy this airshow. During the show, you can check out the vintage and modern day aircrafts on display. Proceeds from the show benefit efforts to restore and maintain historic aircraft, scholarships for aviation students and to many nonprofits in Houston.
Ticket Information
Price: $20 for adults; $4 for children ages 6-11; children under 5 are free
Reserved prime seats located in front of the flight line are $45 and include reserved parking and an airshow program
Eagle Squadron Hospitality tickets are $125 and include reserved seats, food and beverages, reserved parking, souvenir hat, program and poster.
Wings Over Houston tickets can be purchased online or by calling 888-4-FLYSHOW.
I'm participating in an amazing giveaway for the Wings Over Houston Airshow. Check out the amazing prizes below.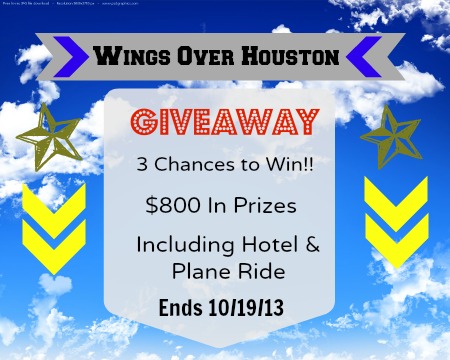 Grand Prize
Airplane ride at the show, two nights stay at the South Shore Resort and a family pack of tickets, which are good for 2 adults and four kids. (Ride based on day of attendance and availability.)
Second Place Prize
Family pack of tickets  — 2 Adults and 4 children
Third Place Prize
Two tickets – General Admission
To enter, see the Rafflecopter form below.