I received a copy of this set to facilitate this review. All thoughts and opinions are my own.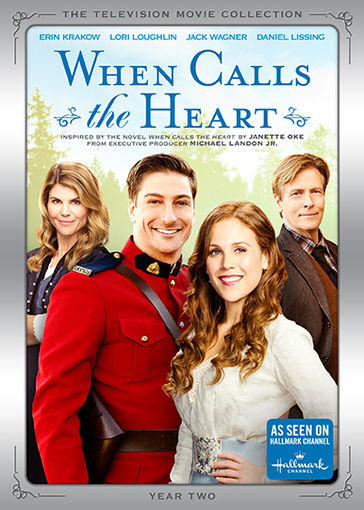 If you've missed the second season of the hit show When Calls The Heart, now is your chance to catch up.
On Oct. 13, Shout! Factory Kids is releasing the entire season in When Calls The Heart Year Two (The Television Movie Collection).
This five disc DVD set includes all of the installments from the second season with bonus features, exclusive featurettes, behind the scenes footage and interviews with the cast and crew.
Here is a basic background about the family friendly drama:
Based on Janette Oke's Canadian West series, this story is set on the frontier. It centers around Elizabeth Thatcher, a woman who left the pampered comforts of her city life to pursue a teaching job in the former mining town of Hope Valley.
This new rough terrain lifestyle challenges Elizabeth. However, she learns to accept her new life and builds lasting bonds with the children and residents of Hope Valley.
She has an unexpected romance with Mountie Jack Thornton, who comes from a very different background.
The second season is full of family pressures, rival suitors and threats to the little town. However, a positive message runs throughout each television movie.
This is one of my favorite series. I love the characters, the scenery and the storyline.
When Calls The Heart is a great show that you can watch with your entire family.
It stars Daniel Lissing, Erin Krakow, Jack Wagner, Kristina Wagner and Lori Loughlin. It is executive produced by Michael Landon, Jr. The series currently airs on the Hallmark Channel.
When Calls The Heart Year Two DVD Set Giveaway
Terms & Conditions
Family Fun Journal is hosting this giveaway on behalf Shout! Factory Kids. Facebook, Twitter, Instagram and Pinterest in no way sponsor or endorse this giveaway.
By clicking the green "I did this!" buttons you are confirming that you completed these entries and give Family Fun Journal permission to contact you via email and to announce your win.
Void where prohibited or restricted by law. Must be at least 18 years of age to enter.