I am a huge fan of the Hallmark series, When Calls The Heart. I used to read Janette Oke books as a teenager. So, I was thrilled when Hallmark started showing a series based upon her popular Canadian West books.
When Calls The Heart Trials Of The Heart is a film that kicks of Season 2 of the series. If you haven't watched the first season, this DVD is a great way to get caught up.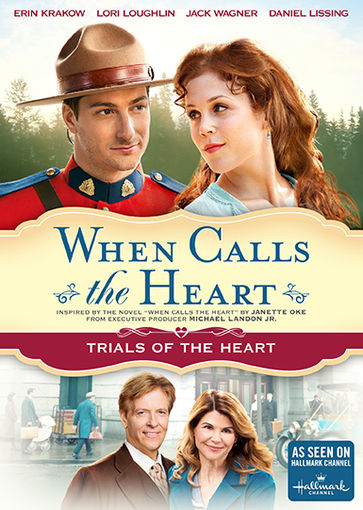 (I received this DVD in order to facilitate this review. All thoughts and opinions are my own.)
This series is an adventure set on the frontier in a town called Coal Valley.
Elizabeth Thatcher is a teacher who wants to teach children on the frontier. She gives up a pampered life in a big city to move to a very rural environment.
She meets a Mountie named Jack and forges a strong bond with him.
Thatcher settles into frontier life and becomes a part of the small tight-knit Coal Valley community.
When she receives a telegram from home, informing her that her mother has taken ill, she returns to the city. Jack escorts her on her journey to ensure her safety.
Things get a little complicated when Thatcher's former suitor (who is supported by her father) enters the picture.
I loved this DVD. Watching this movie is like stepping back in time. I love all of the elaborate sets and clothing. This series and DVD always has a positive message. It is also very family-friendly entertainment.
The Shout! Factory DVD, When Calls The Heart Trials Of The Heart, is available for preorder now. It will be officially released on May 26.
It stars Erin Krakow (Army Wives), Daniel Lissing (Eye Candy), Lori Loughlin (Full House, 90210), and Jack Wagner (The Bold & The Beautiful, General Hospital).
Executive produced by Michael Landon Jr., Brad Krevoy, and Brian Bird, When Calls The Heart airs on The Hallmark Channel, returning for Season 2 on April 25, 2015.
Shout! Factory, LLC is a diversified multi-platform entertainment company that is devoted to producing, uncovering, preserving and revitalizing the best of pop culture.
The founders, Richard Foos, Bob Emmer and Garson Foos, have spent their careers sharing music, television and film favorites with discerning consumers all over the world.
Shout! Factory's DVD and Blu-Ray™ offerings include feature films, classic and contemporary TV series, animation, live music and comedy specials in elaborate packages filled with extras.