If you love When Calls The Heart, check out this post for information about the upcoming DVD release and a giveaway!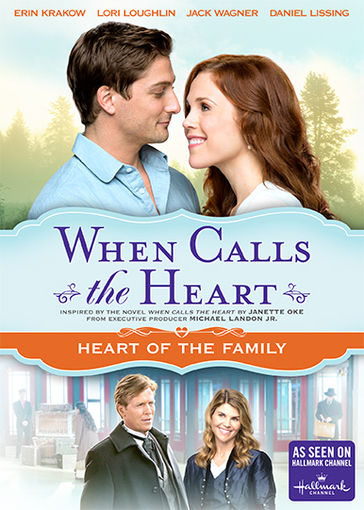 (I received a copy of this DVD to facilitate this review. All thoughts and opinions are my own.)
Starting Aug. 4, you can own your very own copy of When Calls The Heart Heart Of The Family.
This show is based on Janette Oke's bestselling series about the Canadian West. Set in a small town, it is centered around life on the frontier.
I absolutely love this show. From the small town setting, to the engaging characters, it is such a positive viewing experience. I look forward to watching it each week on the Hallmark Channel. Thanks to Shout! Factory, you can also own it on DVD.
In case you aren't familiar with this amazing series, here is a little background on the main characters.
Elizabeth Thatcher is a strong-willed teacher who is always up for a good challenge. Raised in a pampered city lifestyle, she decides to embark on the adventure of a lifetime and become a teacher on the frontier.
Constable Jack Thornton soon becomes Elizabeth's friend and protector in Hope Valley.
Abigail Stanton runs the local cafe and is Elizabeth's friend and confidant. She has a very strong character and always overcomes every obstacle.
Bill Avery is somewhat of a mysterious character. He travels in and out of Hope Valley while pursuing his investigative duties.
When Calls The Heart Heart Of The Family
When Elizabeth returns to Hope Valley, she takes on the challenge of looking after a neighbor's two children and very rural homestead.
Elizabeth is quickly overwhelmed by all of the activities on the homestead. As always, her faithful mountie, Jack, comes to the rescue.
Just when you think Elizabeth and Jack will finally become an official couple, Charles Kensington makes a surprise visit. No one is more surprised than Elizabeth, to find Charles standing in the middle of the schoolhouse.
While I love Jack and Elizabeth, one of my favorite characters is Rosemary LeVeaux. She is an actress who brings a lot of drama to ordinary situations. I love the predicaments featuring Rosemary on this DVD.
When Calls The Heart Heart Of The Family, is the third installment of Season 2. For information about the first and second DVDs, click on When Calls The Heart Trials Of The Heart and When Calls The Heart Heart and Soul.
The Shout! Factory DVD, When Calls The Heart Heart Of The Family stars Erin Krakow (Army Wives), Daniel Lissing (Eye Candy), Lori Loughlin (Full House, 90210), and Jack Wagner (The Bold & The Beautiful, General Hospital).
When Calls The Heart Heart Of The Family Giveaway
Terms & Conditions
Family Fun Journal is hosting this giveaway on behalf Shout! Factory Kids. Facebook, Twitter, Instagram and Pinterest in no way sponsor or endorse this giveaway.
By clicking the green "I did this!" buttons you are confirming that you completed these entries and give Family Fun Journal permission to contact you via email and to announce your win.
Void where prohibited or restricted by law. Must be at least 18 years of age to enter.