#uhdatbestbuy The reviewer has been compensated in the form of an @BestBuy Gift Card and/or received the product/service at a reduced price or for free.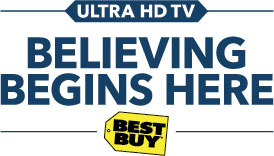 Ok, I have a confession to make…my husband and I LOVE new technology. We enjoy buying new gadgets and devices when they enter the market.
It is so exciting to purchase a new tech item that surpasses the one that you already own. This is now the case with the new Ultra HD TVs that are now on the market.
When I was growing up, TVs were big, bulky heavy things. In college, you were so awesome if your big TV had a flat screen. Even with a flat screen, those TVs weighed a ton. Seriously, it always took several people to lift those things.
Over the past decade, we've been through several TVs. Each TV purchase has allowed us to gain better picture quality and enhanced features.
We always buy our TVs at Best Buy because they offer the best selection and we LOVE their Geek Squad Protection Plans.
We recently got a new TV. We are so excited about it. Even our 4-year-old loves it. TVs are a great way to have family fun. Every Friday night, we enjoy movie night on our new TV.
Now, there is a new, even better way to enjoy watching TV. The ultimate viewing experience is now available with an Ultra HD TV.
My Favorite Things about Ultra HD TV
Four times the picture resolution of full HD 1080p. This allows for a fully immersive experience.
Lifelike picture quality.
The resolution is so clear and detailed. (I now know why actors and actresses have to wear very heavy makeup. The picture on these TVs are so detailed you can see everything on their faces.)
4k Ultra HD improves the quality of movies and TV shows.
Also, Sony has introduced a 4k Ultra HD Media Player that comes loaded with free 4k content. You can also download more than 200 4k films. Find out more information about Best Buy.
Visit Best Buy to experience Ultra HD TV
Visit a store near you to learn all about the Ultra HD TV. From Aug. 1 to Nov. 1, every Saturday from 11 a.m. to 3 p.m., you can learn all about the Ultra HD TV experience from experts with LG, Samsung and Sony.
During these events, you can enter for a chance to win your own 55 inch Ultra HD TV. This prize also includes installation and Geek Squad protection!
Select stores will also have giveaways from Sony and LG including tickets and cord keepers while supplies last.
Click on the image below to go to a printable PDF document of the invite. Visit Best Buy events  for more information.