#affiliate #giveaway Today through Wed., July 9, at 9 p.m. eastern, you can enter to win one of 95 Vera Bradley campus backpacks!
Winners can pick from the following colors
Each backpack is valued at $109.
To enter the giveaway, click on the image below and submit your email address.
The winner will be chosen via a lottery drawing on July 10 and notified at the email address provided during the giveaway.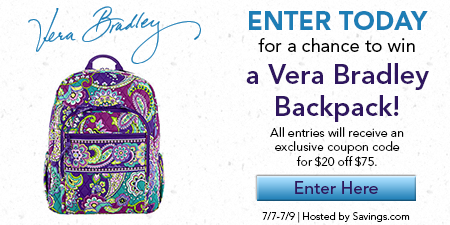 Giveaway participants will also receive an amazing coupon code.
After you enter the giveaway, you will receive a coupon code for $20 off of a $75 purchase. This code will be emailed on Friday, July, 11.
This post contains affiliate links. Please visit my disclosure policy for more information.