I love repurposing decorations. It is so much fun to take old things and turn them into something else.
Last year, I bought two red wreaths at Target during an after Christmas sale. I used them throughout the year for Valentines Day, Fourth of July, Halloween and Christmas. I only had to purchase inexpensive accessories to turn each wreath into a completely new decoration.
This year, during the after Christmas sales, I purchased this red pop up tree. It was quite a steal at 80 percent off! I would have loved to purchase two, but I was lucky to find this one.
Because I had so much fun repurposing my wreaths last year, I'm going to challenge myself to use this tree as much as possible for all of the holidays this year.
To make this Valentines Day tree, I simply purchased stick on foam conversation hearts (at the Dollar Spot in Target) and adhered them to the tree. The hearts are sticky, but I can easily remove them without damaging the tree.
The foam conversation heart stickers are so cute. I actually went back to Target and purchased a few more bags. At $1 each, they are a great way to turn anything into a Valentines Day decoration.
My four-year-old daughter decorated this tree almost by herself. I gave her a bag of the foam heart stickers. She removed the backs and stuck them all over the tree. I helped with the higher sections. She LOVES this tree and had so much fun sticking the hearts all over it.
To complete the look, I took a small sparkly tree skirt (a Christmas decoration) and put it around the bottom.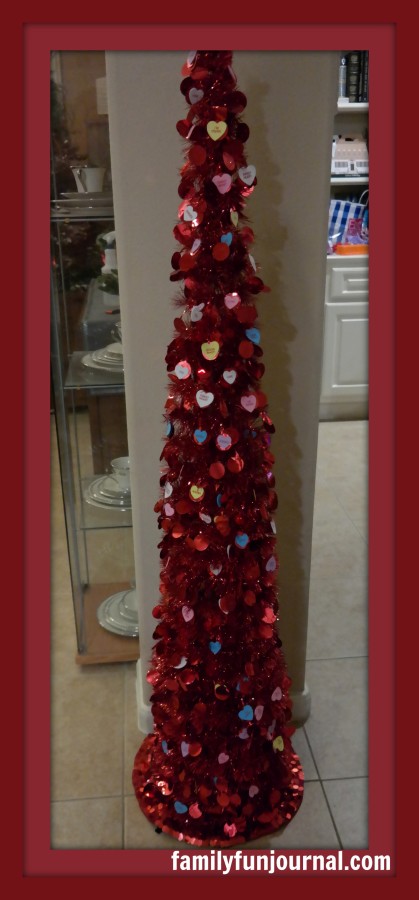 This tree is so much fun. For more Valentines Day decorating ideas, check out my Valentines Day mantel and Christmas tree repurposed into a Valentines Day tree.