I received a copy of the Transformers Rescue Bots Mystery Rescue DVD to facilitate this review. All thoughts and my opinions are my own.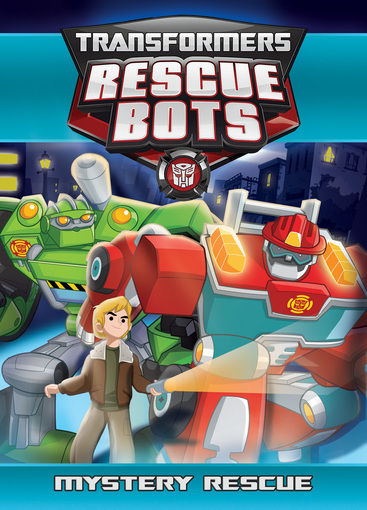 The town of Griffin Rock is protected by Transformers Rescue Bots. These include the powerful Chase, Heatwave, Blades and Boulder. However, these Rescue Bots don't work alone. These courageous Transformers are aided by a brave family of first responders, led by Cody.
My daughter really enjoys watching the Rescue Bots save the day. She likes to watch their heroic acts and suspenseful adventures. She loves that humans help the Rescue Bots achieve their goals. According to my daughter, Cody is her favorite character because he is a kid. She loves that he plays an important role in protecting the town with the Transformers Rescue Bots.
I like the themes of courage and friendship that are prevalent in every episode of Transformers Rescue Bots. I love that everyone works together toward a common goal.
This mystery themed collection features five episodes. Each episode features a different mystery. It is up to Chase, Heatwave, Blades, Boulder and the Burns family to solve them.
This DVD features suspense and fun as Cody and the Transformers Rescue Bots use their sleuthing skills. They even confront ghosts, search for the Maine Ridge Monster and chase gremlins.
Transformers Rescue Bots Mystery Rescue DVD Episodes:
Countdown
The Haunting of Griffin Rock
Spellbound
Blame The Gremlins
Feed The Beast
This DVD is available now from Shout! Factory in collaboration with Hasbro Studios. It has a suggested retail price of $14.93. Transformers Rescue Bots Mystery Rescue is executive produced by Jeff Kline and features the voice talent of LeVar Burton, Lacey Chabert, Steve Blum, Maurice LaMarche and Peter Cullen.
Transformers Rescue Bots currently airs on The HUB TV Network in the U.S. and on Treehouse in Canada.