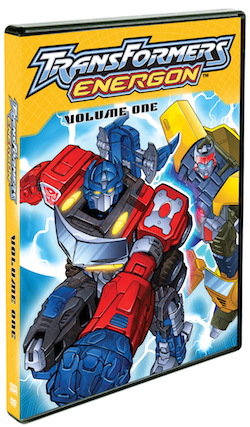 On May 13, Shout! Factory in collaboration with Hasbro Studios, will release Transformers Energeon Volume One DVD at Walmart for $5.97.
This DVD features the first seven episodes from Transformers Energon. This will be a DVD parents and kids will enjoy watching because it involves new adventures of this classic animated series.
The episodes pick up 10 peaceful years later, after UNICRON's destruction. Now, a myserious enemy has unleashed the TERRORCONS on the AUTOBOTS' cities. This enemy is gathering energy for plans of total domination.
With a newly revived MEGATRON, the universe is set for a war that will be quite different from the AUTOBOTS and DECEPTICONS. As usual, earth is stuck in the middle.
Transformers Energon follows OPTIMUS PRIME, his AUTOBOTS and human allies as they fight to protect earth against the new threat.