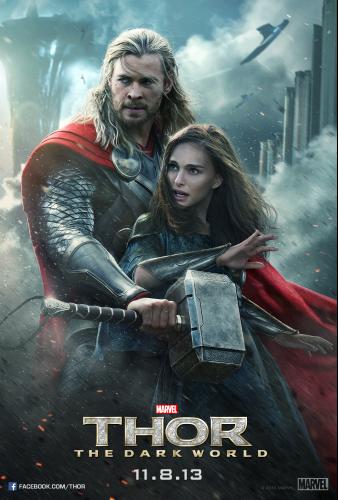 I thought the first movie, Thor: The Mighty Avenger, was good. So, I was excited when I was invited to preview the sequel. I thought the newest movie, Thor: The Dark World was really, really good. It has all of the components of a successful film and then some. I love when serious action films also incorporate a few comedic moments. This film is a good blend of both.
Thor: The Dark World centers around Thor (Chris Hemsworth), as he battles to save all of the Nine Realms, including Earth, from an old enemy. This shadowy dark force predates the universe. Thor and his friends must restore order to the cosmos. You may be surprised to learn that his adversary, Loki (Tom Hiddleston), becomes an allied force in this film.
I really like that this film incorporates girl power. The main female character, Jane (Natalie Portman), is a very smart scientist. Another female character, Sif (Jaimie Alexander), is a brave warrior. Even Thor's mom, Frigga (Rene Russo), is a courageous, tough female character.
I don't think you have to see the first film in order to enjoy Thor: The Dark World. However, you will understand a lot more of the backstory if you view the first movie ahead of time.
If you like Marvel and action films, you should definitely see this movie. I will let you know, without revealing too much, there is a surprising twist at the end of the movie.
To view a clip from the film, watch the video below. Thor: The Dark World is in theaters now.
I received press passes for this film. All opinions are my own.