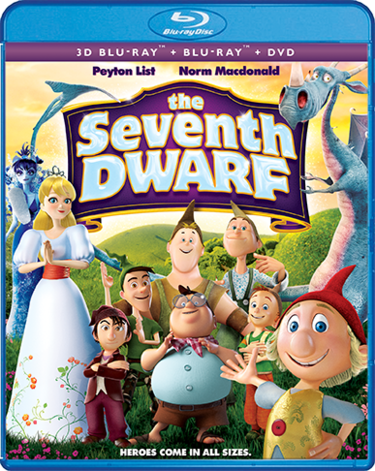 I received a copy of this film to facilitate this review. All thoughts and opinions are my own.
If you want to watch a fun fairytale themed movie, you will want to check out The Seventh Dwarf. This hilarious movie is full of fun characters and adventure.
From Shout! Factory, this CG-Animated Motion Picture will be available on Aug. 18.
Your favorite storybook characters come to life in the world of Fantabularasa Castle. The night of Princess Rose's (Sleeping Beauty) 18th birthday, everyone in the kingdom is coming to the special event.
Snow White, the Seven Dwarfs, Cinderella and Red Riding Hood are all attending to celebrate the important occasion.
Things are running smoothly until the youngest dwarf, Bobo, causes a lot of trouble. Just before the stroke of midnight, Bobo pricks Princess Rose's finger. In this fairytale land, as you would expect, he didn't prick her finger on an ordinary needle.
He accidentally pricks her finger on a cursed needle and send the entire kingdom into a century-long slumber.
Bobo and the other six dwarfs are the only ones who can save the day. They have to find Rose's true love, Jack, so that he can save her and the rest of the kingdom.
The seven dwarves embark on a treacherous journey. They face many foes, including a fiery dragon and Dellamorta, a bad witch. She is the most formidable foe because of her jealous scheming ways.
This film is fun to watch because it features hilarious characters and great music.
The Seventh Dwarf DVD Combo Pack Bonus Features
Character Profiles
Sing-Alongs
Downloadable Royal Birthday Invitation
Here is a clip from the film:
This film features the voice cast of Norm Macdonald, Nina Hagen and Joshua Graham.
The Seventh Dwarf will be available on  two-disc Blu-Ray 3D Combo Pack, on DVD and VOD.