#thehobbit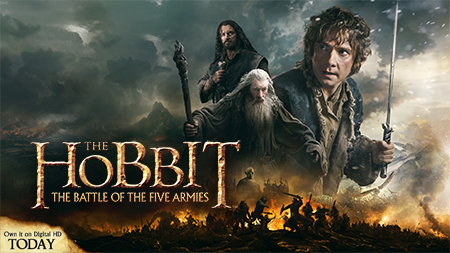 Disclosure: This giveaway DVD is provided by Warner Home Video.
The final film of The Hobbit is here. Warner Bros. is releasing the digital version of The Hobbit The Battle of the Five Armies.
From Academy Award-winning filmmaker Peter Jackson comes the much anticipated The Hobbit The Battle of the Five Armies. This film is the third in a trilogy of memorable motion picture events. All films were adapted using J.R.R Tolkien's classic The Hobbit.
This final film is the epic conclusion of the saga. It features Bilbo Baggins, Thorin Oakenshield and the Company of Dwarves as they embark on yet another adventure. Having reclaimed their homeland from the Dragon Smaug, the company has unwittingly unleashed a deadly force into the world.
To celebrate the release of this film, here is a super fun interactive map of Middle-Earth. Take the quiz to find out what is your Middle-Earth weapon of choice.
The Hobbit The Battle of The Five Armies Blog App
Take this quiz to uncover your Middle-Earth Weapon of choice.
Mouse over the Interactive Map to learn fun facts about Middle-Earth.
Watch the official trailer.
The Hobbit The Battle of The Five Armies Giveaway
a Rafflecopter giveaway
Click here to enter The Hobbit The Battle of The Five Armies Blu-Ray giveaway
Terms and Conditions:
Each household is only eligible to win One (1) Digital Download Coupon for The Hobbit: Battle of the Five Armies via blog reviews and giveaways. Only one entrant per mailing address per giveaway. If you have won the same prize on another blog, you will not be eligible to win it again. Winner is subject to eligibility verification.
Family Fun Journal is hosting this giveaway on behalf of Warner Home Video. Facebook, Twitter and Pinterest in no way sponsor or endorse this giveaway.
By clicking the green "I did this!" buttons you are confirming that you completed these entries and give Family Fun Journal permission to contact you via email and to announce your win. Family Fun Journal is not responsible for prize fulfillment. The prize will be sent via FedEx or USPS. No P.O. Boxes please. Void where prohibited or restricted by law. Must be at least 18 years of age to enter. Giveaway open to the U.S. and Canada.
Own it on Digital HD now or on Blu-Ray March 24.