I received a copy of The Ambrose Deception to facilitate this review. All thoughts and opinions are my own.
For a one-of-a-kind reading experience, you won't want to miss The Ambrose Deception from Disney-Hyperion!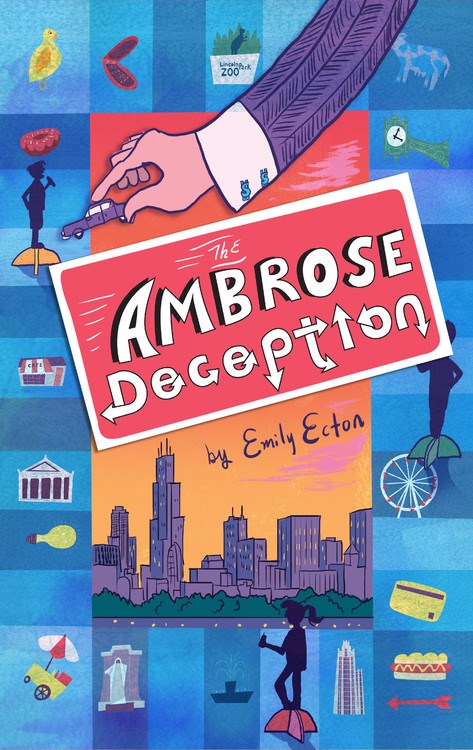 If your kids love a good mystery, they will love The Ambrose Deception by Emily Ecton. Available on Feb. 13, this book is a fun and exciting mystery!
The story centers around three middle school students. Melissa is a girl who doesn't really stand out. Bondi is the exact opposite and likes to be the center of attention. Wilf is a kid who does the bare minimum to get by.
These kids aren't exactly the most outstanding students. Plus, they don't have anything in common. So, it is a complete mystery why these three particular kids are chosen as contestants in an exciting contest. They have the opportunity to compete for a big college scholarship!
During their quest, they have to go all over Chicago and look for clues. In the beginning, they decide to work independently. However, as time goes on, they start to change their minds. As they begin to grow skeptical about the scholarship, the three competitors decide to join forces to find out the truth about the Ambrose Deception.
Since my daughter is in second grade, we decided to read this book together. We had a blast! First, we loved trying to solve the clues. We also enjoyed the way the book is put together. It contains all kinds of neat features like notes, lists and text messages. These fun additions work to break up the text in the book and make it more engaging for the young reader. Also, the chapters are broken up by character, which allows you to gain insight into the life of each one. Towards the end, the chapters also center around the three main characters.
As a Mom, I'm always thrilled about my daughter spending time reading a book. However, this book also helps kids develop their critical thinking skills. Through the use of clues and puzzles, kids have to try to figure things out along with the characters.
For a great and engaging reading experience, check out The Ambrose Deception! This book is suggested for kids 8-12. However, even as an adult, I found it extremely entertaining.