When I was younger, my favorite popsicle was the chocolate Jello Pudding Pop.
The popsicles were available in vanilla, chocolate and swirl flavors.
Since I haven't seen them available for years, I thought I would try to make my own. Because, I seriously loved those popsicles!
I rummaged through my recipe books and even spent time searching online. I couldn't really find a recipe that interested me.
I decided to put my pudding pop plans on hold and resume my search at a later date.
Later, I noticed one of my daughter's pudding snack pack cups sitting on the counter. She loves it when I put puddings in her school lunch bag.
I was hesitant as I stared at the little chocolate pudding cup.
Could I really just put a popsicle stick in this pudding cup and freeze it? Would it turn out? Would it taste good?
I decided to give it a shot. I used a knife to cut a small slit in the top of the pudding cup. I then inserted the popsicle stick.
The pudding pops turned out great! They are so delicious and I am still amazed out how easy it was to create this decadent frozen treat.
Two things to note:
1. Use a knife to make a slit in the top of the pudding cup first, then add the popsicle stick. If you don't use the knife, you risk making too big of a hole in the pudding cup top.
2. When you get ready to eat it, run the container under a little warm water to ensure easy popsicle removal.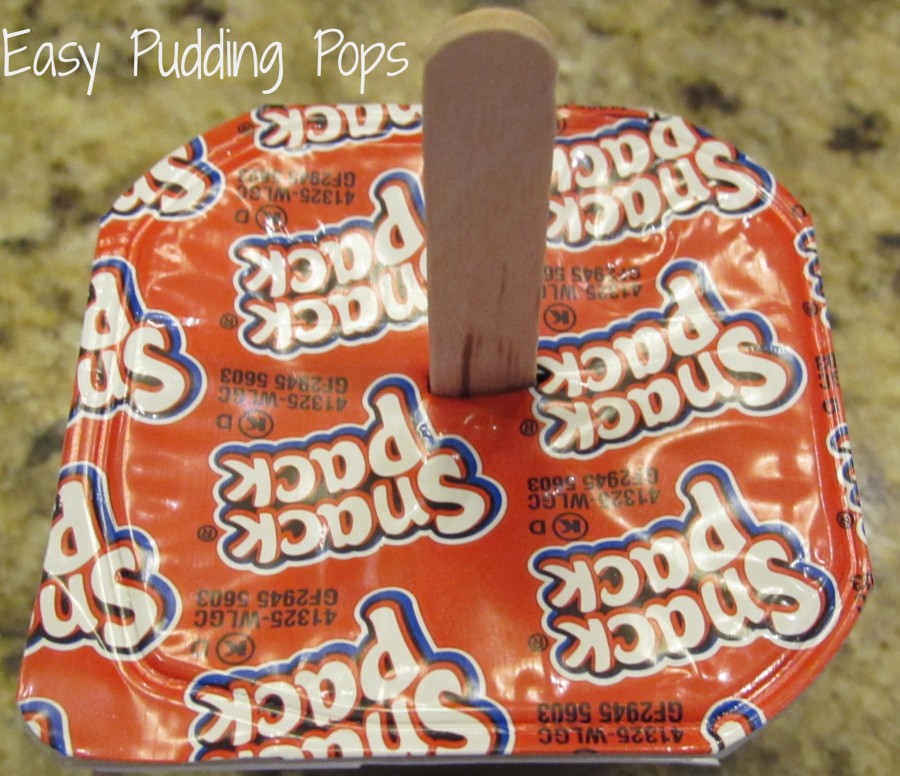 Easy Pudding Pops
Super Easy Pudding Pops
Ingredients
Pudding cup
Popsicle stick
Knife
Instructions
Using a knife, make a tiny slit in the top of the pudding cup.
Insert a popsicle stick.
Place in the freezer overnight.
Once frozen, run the cup under a little warm water to ensure easy removal.
You can follow these instructions for any flavor of pudding cup. Some of our favorites are chocolate, vanilla and smores.
Your kids will love to eat these yummy frozen pudding pops.