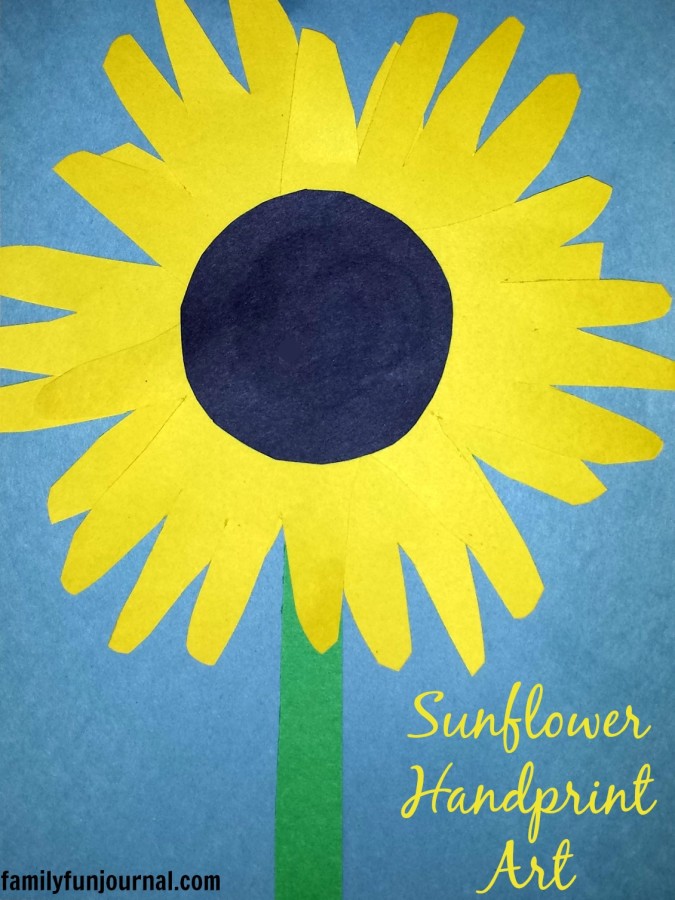 I love to do easy craft projects with items from around my home. Since I have a toddler, who likes to create things, I always have scissors and glue.
I also try to keep construction paper in my house. I go through the paper pretty quickly. So, I like to buy a big pack of construction paper. You can sometimes find it at Sam's Club or Costco.
---
Sunflower Handprint Art Instructions
Supplies:
4 pieces of yellow construction paper
1 piece of black construction paper
1 piece of blue construction paper
Scissors
Glue
Pencil
Instructions:
Using a pencil, trace your child's hand on a piece of yellow construction paper.
Fold the piece of construction paper in half with the tracing facing out.
Fold three sheets of yellow construction paper in half and place behind the tracing.
Cut through all four halves at one time.
You should have eight hand prints when you've finished.
Arrange the handprints in a circle (to look like a sunflower).
Cut a small circle out of the black construction paper.
Glue the black circle to the arranged hands.
Cut a thin strip of green construction paper for a stem.
Glue the green strip to the bottom of the flower.
Glue the entire flower to the blue paper.
---
This sunflower handprint art project is so easy to make with your children. They will enjoy creating the flower and gluing everything together.
My daughter loves learning about flowers. This is a great way to create a simple project that provides a learning experience. You could easily look up flower pictures online and try to replicate them with handprints.
If you want to make a variety of flowers, you could easily make handprints out of several colors of construction paper. You could create different flowers by arranging the handprints in other patterns.
Here is another great craft project that uses construction paper.