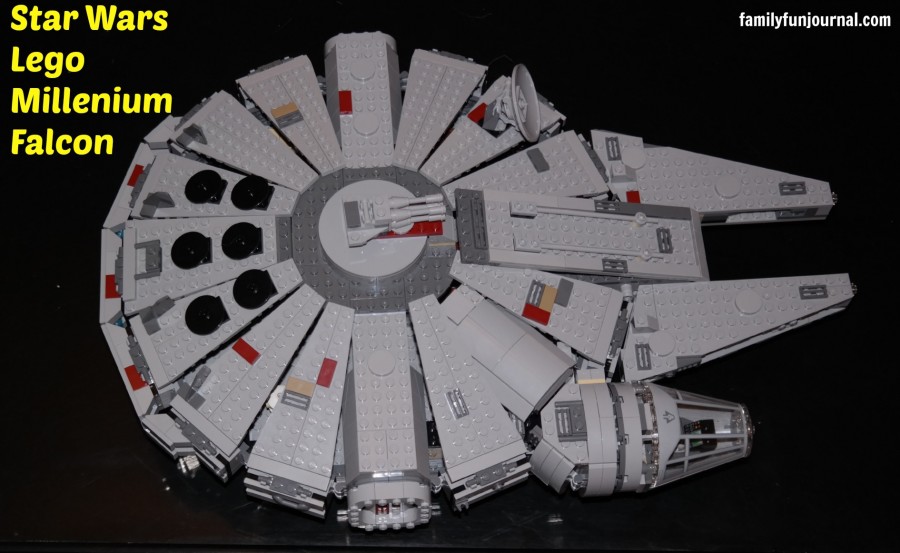 The Star Wars Lego Millenium Falcon is a fun project for the entire family.
My husband and daughter are really into Legos lately. You know those big Star Wars Lego kits? They love to build those together.
Here is a time lapse video of their Star Wars Lego Millenium Falcon build. Because my four-year-old was involved, you might notice that her teddy bear makes an appearance during the video. See if you can spot it!
The box includes instructions, Lego pieces, mini figures and stickers. The finished Millenium Falcon measures over 15 inches wide and 4 inches tall.
Star Wars Lego Millenium Falcon FAQs:
Includes hull plates that open and close
Detailed interior including chairs, cup, control panels and game board
Twin flick missles
Rotating quad laser cannons
Detachable cockpit cover
Includes six mini figures-Han Solo, Luke Skywalker, Chewbacca, Ben Kenobi, Princess Leia and Darth Vader
These Lego kits are a great way to spend time together as a family. Your kids will love creating a replica out of Legos. To add even more fun, you can watch the Star Wars movies while you work on this replica.
As a Mom, I love that Legos provide an educational activity. I really like that my daughter is learning how to follow directions and build something from the ground up.
My daughter also enjoys playing with the finished Millenium Falcon. I was pleasantly surprised that the Millenium Falcon really holds together. My daughter plays with it a lot. She opens and closes the hull plates and moves the mini figures around the inside and outside of the ship. We've only had a few of the smaller Legos fall off while she is playing with it. However, it is super easy to simply reattach them.
All in all, this is a great activity. My husband really had a blast building the Star Wars Lego Millenium Falcon with our daughter.