I love easy kid-friendly crafts. This one is super simple. The other day, when my daughter asked to make St Patricks Day decorations, I thought about what I could make with construction paper.
I glanced around my house and settled on my daughter's newest interest: plants. She loves to grow things and water them. I decided to make a super cute Leprechaun hat cover for one of her plants.
The result: a cute plant cover that is perfect for St. Patricks Day. This simple craft makes the most adorable decoration.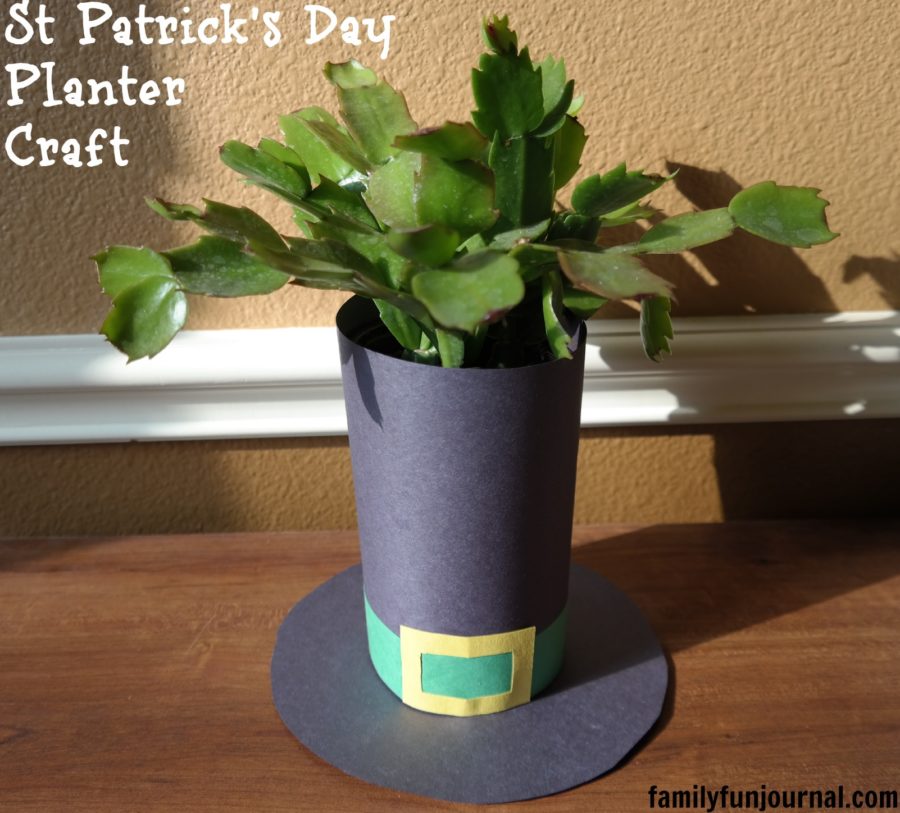 [print_this]
St Patricks Day Craft Instructions
Supplies:
Scissors
Construction paper-2 pieces of black, one green and one yellow
Glue
Potted Plant
Tape
Instructions:
Cut one piece of black construction paper into a circle. (I traced a small plate and used it as a guide.)
Cut a thin green horizontal strip for the hat band.
Cut a small yellow square. Fold it in half and cut a square shape out of the middle for the buckle.
Glue the green strip to the bottom of a piece of black construction paper.
Glue the buckle to the middle of the green strip.
Set a small potted plant on top of the black circle.
Wrap the pot with the other piece of black paper. Tape to the back of the pot.
Variations:
Fresh Flowers-If you don't have a small potted plant, you could use a peanut butter container, mason  jar or can and add freshly cut flours to it.
Plant Seeds-You could add potting soil to a container and put fast growing seeds in it that would grow by St Patricks Day.
[/print_this]
I helped my daughter cut out everything. She used the glue and tape on her own.
I hope you enjoy this St Patricks Day craft!