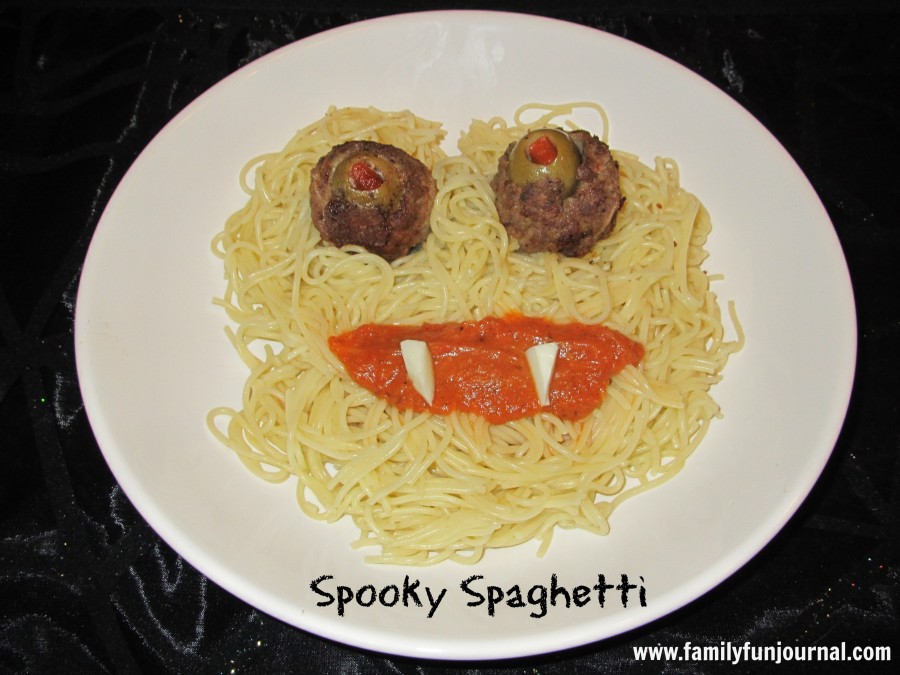 Every Halloween night, my family has spaghetti and meatballs for dinner. Let's be honest, spaghetti by itself has the ability to look pretty gruesome with a Halloween mindset. So, I decided to take things a step further. You can use this delicious spaghetti and meatball recipe to get started (I've also included the full recipe below).
The only difference with the meatballs is that I inserted a green olive in the top of each one before frying. Don't worry, the green olives taste great with the meal.
This is such a fun recipe to prepare with your kids. They will love making this spooky spaghetti.
Spooky Spaghetti Recipe
Spooky Spaghetti
Ingredients
Sauce:
2 15 oz. cans tomato sauce
2 6 oz. cans tomato paste plus two cans water
4 cloves of garlic minced
1&1/2 Tbsp olive oil
1 Tbsp Italian seasoning
1 tsp garlic powder
¼ cup powdered Parmesan cheese
1 Tbsp + 1 tsp sugar
Meatballs:
1 pound ground beef
2 Tbsp. Italian seasoning
4 cloves minced garlic
½ cup Italian bread crumbs
½ cup powdered Parmesan cheese
2 eggs
½ tsp garlic powder
green olives
string cheese
Instructions
Sauce Instructions:
Heat olive oil in a pot then add garlic.
Cook briefly and then add the rest of the ingredients.
Cover and let simmer on the stove for 15-20 minutes.
Meatball Instructions:
Combine all ingredients in a bowl and work until incorporated.
Roll meat into balls.
Stick a green olive into the middle of each meatball. Leave a portion of the olive sticking out.
Heat a pan with a quarter inch of olive oil. Add the meat and cook over medium heat until browned.
Place spaghetti in a bowl.
Put two meatballs into the spaghetti for eyes.
Using a spoon, add sauce in the shape of a mouth.
Cut two teeth out of a piece of string cheese.
If you like this spooky recipe, check out these Halloween posts:
Halloween Graveyard Pudding Cups