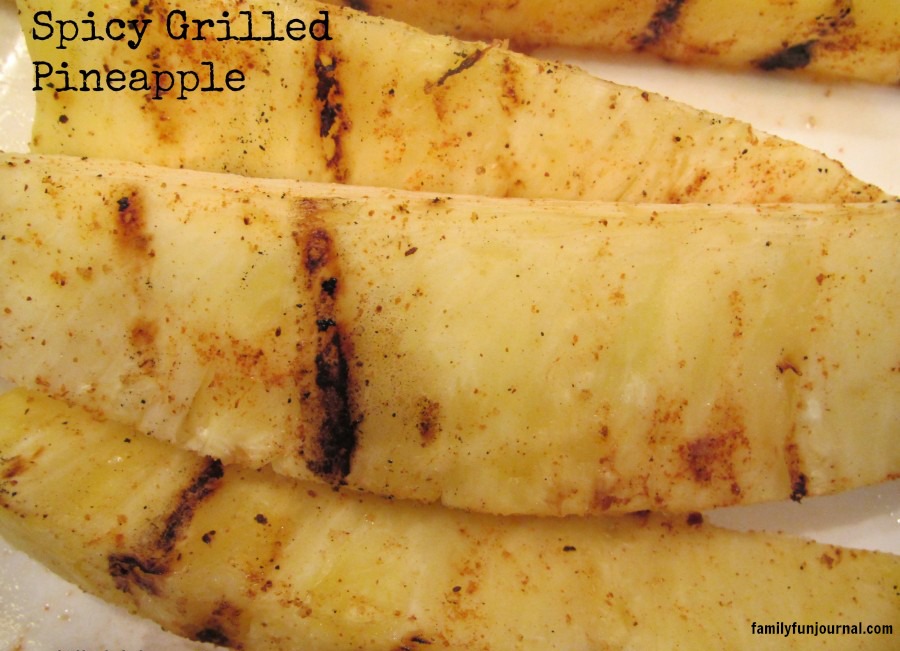 Spicy grilled pineapple is one of my favorite side dishes. It is so easy to make and extremely delicious. It is the perfect blend of sweet and spicy.
This side goes great with burgers, steaks or barbecued chicken. Your whole family will love spicy grilled pineapple.
I like grilled pineapple because it is a nice change from traditional barbecue side dishes. It is a perfect way to wow your family and guests.
I usually cut it into big strips. However, you could easily cut it into rings. If you don't have cajun seasoning, you could use seasoned salt or a little bit of salt and cayenne pepper.
If someone in your family doesn't like spicy food, you could leave the seasoning off altogether.
Spicy Grilled Pineapple
Spicy Grilled Pineapple
This sweet and spicy side dish is perfect with any meal.
Author:
Family Fun Journal
Ingredients
Pineapple
Cajun Seasoning
Instructions
Cut a pineapple into spears
Sprinkle with cajun seasoning
Grill on medium low heat, rotating every 2-3 minutes until all sides show grill marks
My daughter even likes pineapple cooked on the grill. If you have any pineapple left over, you have several ways to eat it the next day.
You can eat it cold or warm it up. You can add it to a salad or eat it with ice cream. We usually have very little left over. My family loves it so much.
If you are having friends over for a barbecue, you can easily prepare this ahead of time. Cut the pineapple into spears and sprinkle with seasoning. Place the pineapple on a plate. Cover with plastic wrap. Let it sit in the refrigerator until you are ready to grill it. By doing this, you will also allow the seasoning to marinate the pineapple for an extra spicy kick.
Next time you use your grill, consider making spicy grilled pineapple. Your family will love it!