Spaghetti and meatballs is an easy, delicious meal to make at home. Instead of going out to an Italian restaurant, consider trying this authentic recipe.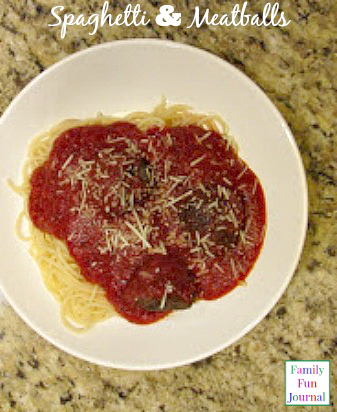 My daughter's favorite meal is spaghetti and meatballs. Needless to say, we eat it a lot. We love to eat it on special occasions.
This is my mother's recipe that was passed down from her grandmother. Did I mention she was from Italy? My great grandmother and great grandfather came to the United States from Italy. They settled in Pennsylvania and raised my grandmother along with several other children.
So, my Mom makes all sorts of Italian recipes that were handed down through the generations. My favorite is her spaghetti and meatballs.
We ate spaghetti and meatballs a lot when I was a kid. So much so, that I kind of got tired of eating it. My mom used to make it numerous ways. I think we used to eat it about once a week.
Now that I'm an adult, I love to eat spaghetti again. It is so easy to make and it always tastes great.
I enjoy making this meal for my family because it reminds me of my heritage.
Trust me, this is one amazing recipe for spaghetti and meatballs.

Spaghetti and Meatballs
Ingredients
Sauce:
2 15 oz. cans tomato sauce
2 6 oz. cans tomato paste plus two cans water
4 cloves of garlic minced
1&1/2 Tbsp olive oil
1 Tbsp Italian seasoning
1 tsp garlic powder
¼ cup powdered Parmesan cheese
1 Tbsp + 1 tsp sugar
Meatballs:
1 pound ground beef
2 Tbsp. Italian seasoning
4 cloves minced garlic
½ cup Italian bread crumbs
½ cup powdered Parmesan cheese
2 eggs
½ tsp garlic powder
Instructions
Sauce Instructions:
Heat olive oil in a pot then add garlic.
Cook briefly and then add the rest of the ingredients.
Cover and let simmer on the stove for 15-20 minutes.
Meatball Instructions:
Combine all ingredients in a bowl and work until incorporated.
Roll meat into balls.
Heat a pan with a quarter inch of olive oil. Add the meat and cook over medium heat until browned. Serve over spaghetti.
The next night, use the meat and sauce to make meatball paninis. I cut the meatballs in half, put them on bread with provolone cheese and cook on my panini press. I then heat the leftover sauce and use it for dipping.
Freezer friendly spaghetti and meatballs:
The sauce and meatballs freeze really well. Prepare the sauce and then freeze it in an airtight container. When you are ready to use it, thaw in the refrigerator and reheat in the microwave. You can also reheat the frozen sauce in the microwave or over low heat on the stove.
To freeze the meatballs, put the raw meatballs on a cookie sheet and freeze for a little bit until hardened. Then, place them in a freezer storage bag. When you are ready to eat them, thaw them in the refrigerator overnight. The next day, follow the frying instructions to prepare the thawed meatballs.
I hope you love this spaghetti and meatballs recipe!