Check out these fun space themed printable Valentines Day cards.
The official countdown to Valentines Day has started in my house. I really enjoy making fun printables. So, here is another fun printable with a funny space alien theme.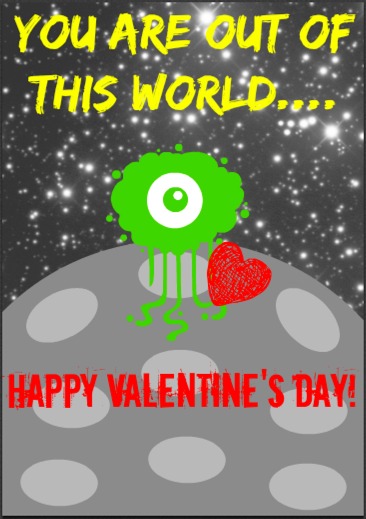 This printable is perfect for your kid's Valentines Day party or card exchange.
It is super easy to create these printable Valentines Day cards.
To access the printable, click on the image below. You will be taken to a downloadable PDF file of this card. It will print four cards per page.
I think you should use a heavier card stock paper for these cards. You could also use photo paper.
First, print the cards out. Next, cut them to separate the four cards.
Your child can fill out the back of each card to personalize it for each friend.
You could easily pair each card with a pencil, tiny toy or a piece of candy.
I hope you enjoy this space themed Valentines Day card!